Pinduoduo Doubled Value of Agriculture Business in 2020
Chinese e-commerce giant Pinduoduo (PDD) in 2020 reportedly doubled the gross merchandise value (GMV) of its agricultural sector dealings, exceeding the company's previous estimate of 250 billion yuan.
Records show that the Nasdaq-listed company amassed a GMV of 270 billion yuan (US $42 billion) in the agriculture sector during 2020, representing a significant increase of GMV from the 134 billion yuan reported in 2019.
Even though the pandemic has slowed down the global economy, lockdown regulations tend to motivate more consumers to embrace digital agricultural services. Also, many independent local farmers have sought alternatives to traditional wholesale channels.
Exploring agricultural digitalization since its establishment in 2015, PDD has transformed the way plants are cultivated, transported, and sold around the world by connecting more than 12 million farmers directly to a large consumer base of 731 million people. In February, PDD was recognized by national authorities for its outstanding contributions to the goal of alleviating rural poverty.
"Agricultural produce is our bread and butter and we will continue to make groceries affordable and available to everyone whenever they want," said the firm's CEO Chen Lei. "Digital agriculture increases the efficiency of food supply chains and ensures food quality at the same time."
SEE ALSO: Pinduoduo Leads Farm-to-Table Movement in China
As the pandemic disrupted food supply chains and threatened farmers' livelihoods last year, PDD launched a "Help the Farmers" channel to promote the sale of freshly farmed produce from heavily affected areas.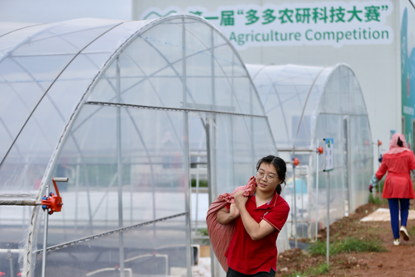 In August 2020, PDD introduced Duo Duo Grocery, its next-day pickup service, allowing farmers to sell directly to local consumers. On this platform, orders placed before 11 p.m. are processed by local farms and dropped off at designated collection points by 4 p.m. the following day, providing consumers a more economical option compared with other premium same-day delivery services.
In November 2020, PDD raised $6.1 billion to fund its exploration of digital agriculture. Today, the company has invested heavily in a logistics infrastructure model to handle perishables. The company is also actively evaluating global investment opportunities in areas such as alternative proteins, food safety, and precision farming.
Sign up today for 5 free articles monthly!