Meng Wanzhou's Final Arguments in Extradition Battle Begin
Meng Wanzhou, the daughter of Huawei founder Ren Zhengfei and the telecoms company's Chief Financial Officer, is bracing for the final phase of her extradition hearings starting on August 4, which will decide whether or not she will be sent to the U.S. to face trial.
The final leg of the legal marathon has come 32 months after Ms. Meng was arrested at Vancouver Airport back in December 2018 at the request of the U.S. authorities. The Huawei CFO was accused of misleading bankers from HSBC over the firm's relationship with Iran, which both Ms. Meng and the company have vigorously denied.
To outsiders, Meng's case may represent a legal whirlpool that has grown ever more intricate with the interference of the U.S., but for Meng herself, it is a personal story of mixed emotions, in which invisible ties have bonded her, her family, her company and her motherland ever closer, despite separation and distance.
For almost 1,000 days since her arrest, Meng has been confined to her Vancouver residence, isolated, fighting her own battle. But she has never been alone. Every time she leaves her house for trials, she is always welcomed by a horde of local Chinese residents who chanting words of support and sympathy, and reporters can frequently capture her infectious smiles and elegant gestures. In fact, apart from the ankle bracelet she is wearing 24/7, there is no visible clue that she is on an endless and tortuous trail. Despite the twists and turns of her case, she hasn't lost a bit of grace and faith — she remains the kindhearted hostess who hands out freshly delivered pizzas to journalists and hasn't given up acquiring new knowledge even in a state of confinement.
In a letter sent last year to Huawei employees, she wrote that although her activity range was confined to few square meters, her inner world "has grown richer, broader and more colorful than ever before…To me, this is a never-before opportunity to form such a closer bond with over 188,000 Huawei employees," continuing, "every cloud has a silver lining, and this tight and warm bond is as soothing as the spring breeze."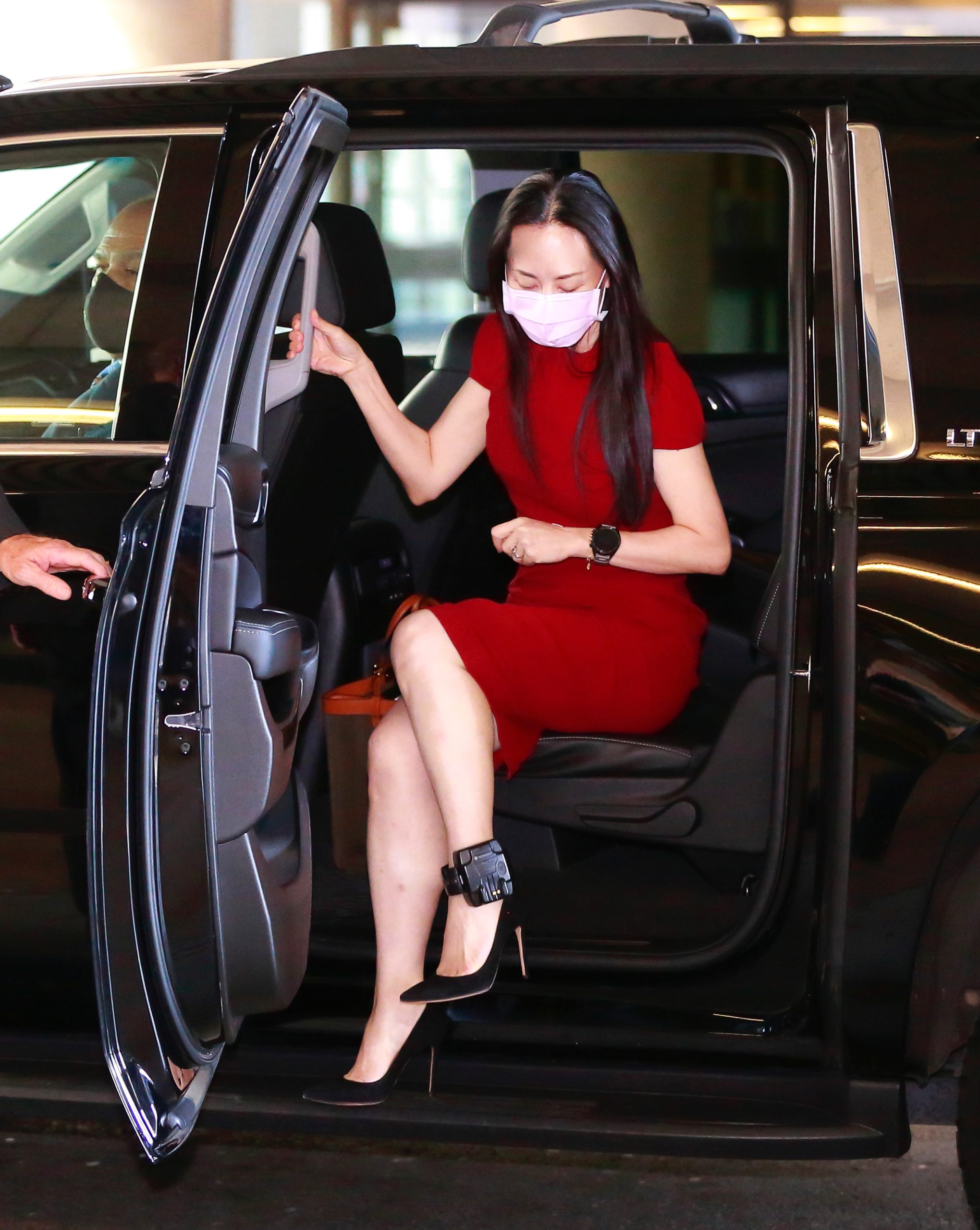 In news headlines, Meng Wanzhou is often referred to as a highly successful woman who is overseeing Huawei's finance department. But in real life, she is a daughter, a wife and a mother of two whom her friends often call Cathy Meng.
Born in 1972, Meng Wanzhou got her name from a classic Chinese poem entitled Songs of Fishing Boats at Dusk (晚舟 Wanzhou in Chinese means "boats at dusk"). Throughout her childhood, her parents were extremely busy, and she was sent to stay at her grandparents' house. Raised chubby and cute by her grandparents, she earned her nickname "Piggy," which she still uses in letters written to her father Ren Zhengfei.
People unfamiliar with Meng often deem that she must have lived like a princess during her childhood as she is viewed as the heiress of her father's business empire. But the truth is quite the contrary. When she was born, her father was recently demobilized and had just started his business. As her father was tied up with tedious work in Shenzhen, she was the "left-behind child" in a small mountain village in southwest China's Guizhou Province. Her grandmother, who was a retired teacher, acted as her tutor in her young age.
The absence of her parents during childhood helped her grow up wise and independent, but her education experience was not very smooth – at least not as smooth as that of her half-sister Annabel Yao, who graduated from Harvard last year and has chosen to become a model and fashion influencer. At one time, Meng told her father, "If I couldn't get to the college, you are the one who is responsible for my future career." In the 1980s, Ms. Meng was enrolled in Shenzhen University majoring in accounting and later got her MBA degree at Huazhong University of Science and Technology.
After graduation, she wasn't very eager to join the family business. Instead, she worked at a local bank in Shenzhen for an entire year as she wanted to build more experience. Young, knowledgeable, and hard-working, the first job she chose to do at Huawei was trivial if not tedious – operating the switchboard and printing the company files, among other tasks. During the first few years of working at the company, few employees had any idea that she was the daughter of their boss.
It was those miscellaneous tasks that given her an incredible sense of peace, charity and responsibility, which has helped Ms. Meng and Huawei pull through tests and difficulties, including during the 2011 earthquake in Japan when she rushed to the disaster area to direct restoration of the company's damaged telecommunication infrastructure.
SEE ALSO: Canada Continues Huawei CFO Meng Wanzhou's Extradition Case, Cites 'Double Criminality'
In the eyes of Ren Zhengfei, Wanzhou is his reliable right hand who has helped him built Huawei into a global giant, yet at the end of the day, she is always his sweet daughter, the "Piggy" that never grows up. On multiple occasions, the founder of Huawei revealed that he had been missing his daughter all day long. "As a father, I've missed my daughter so much," said Mr. Ren during an interview at Huawei's headquarters in Shenzhen a month after his daughter's arrest.
Throughout Mr. Ren's career, he has rarely appeared in front of the camera. But in that interview, he confided his emotion towards his daughter and addressed the future of the company. "My daughter and I were prepared to attend the same meeting in Argentina," he revealed, "but unfortunately, she was detained as she made a stopover in Canada… As her father, I would like to express appreciation for the Chinese government for protecting her rights as a Chinese citizen with consular protection. And I also would like to thank all parts of the society for giving my daughter their support and attention," the Huawei CEO said, adding that he and his daughter were making phone calls in which they only tell jokes with each other. "She is very strong," Ren added.
With the passage of time, the emotion has become all the stronger, even though he told reporters that he had "prepared for not seeing his daughter in person again." Mr. Ren says, "I am proud of her. And I hope after trial and tribulation, she will rise up even stronger," he said.
Meng's case has also drawn tremendous attention from Chinese officials and netizens as it has escalated into a full-blown diplomatic hotspot issue, much more intricate than the typical legal case. At a time when Huawei finds itself in the crosshairs of American regulators concerning its 5G technology, and when China and the U.S. have encountered trade friction, this case represents a "political hot potato" that could further strain the China-US as well as China-Canada relations. The Chinese Foreign Ministry has time and again slammed the case as a political maneuver while urging Canadian authorities to release Meng immediately.
During a recent meeting between China's Vice Foreign Minister Xie Feng and U.S. Deputy Secretary of State Wendy Sherman in the northern Chinese city of Tianjin on July 26, the Chinese side delivered two demands of major concern to the U.S. These included urging the US to lift sanctions and visa restrictions targeting Chinese officials and entities, and to revoke the extradition request for Meng Wanzhou, according to the Global Times.
On August 4, Mona Duckett, Meng's lawyer, said that U.S. authorities' role in misleading and muddling the extradition case "must be denounced" by halting the entire process, as she believed that the U.S. authorities had filed a misleading record of the fraud case against her client.
In a statement released on August 5, Huawei also accused the U.S. of mischaracterizing and omitting evidence "in order to establish a case of fraud," contending that the actions have "corroded the fairness of the Canadian legal proceedings." The statement continued, "Huawei remains confident in Meng's innocence. We will, as always, continue to support Meng's pursuit of justice and freedom."
The next stage of the extradition hearing is scheduled to begin on August 11 and could continue until August 20. ­After the final phase of the extradition hearings, Heather Holmes, the Associate Chief Justice of the Supreme Court of British Columbia, will decide whether to order Meng's discharge, or to order Ms. Meng to be extradited to New York to face trial.
On Monday, Meng's lawyers argued that the only way for the Canadian justice system to protect its integrity after hearing arguments about widespread misconduct in the extradition case of the Huawei CFO is for the proceedings to be stayed.
"To proceed would condone conduct antithetical to Canadian values and antithetical to the rule of law," said Richard Peck, the lawyer who heads Meng's defense team. Citing former U.S. President Trump's interference in the case to get a better trade deal with China, Mr. Peck added that, "that's the very definition of ransom; that's what we're dealing with here…To not react to this, to do nothing, demonstrates indifference if not acceptance."
SEE ALSO: Huawei Releases P50 Series, First Smartphone with HarmonyOS
Sign up today for 5 free articles monthly!