Made for the Young, by the Young: Exclusive Interview with the Team behind realme, the World's Fastest-growing Phone Maker
It's a common phenomenon in many Southeast Asian countries: Young people snatch up the latest smartphone models online — but rarely are they satisfied with what comes in the mail.
But thanks to realme, an up-and-coming Chinese tech start-up, this is changing fast.
"A lot of young people were carrying around cheap, low-quality phones that were poorly designed and had poor functionality. There appeared to be a large selection of smartphone brands in the market, but young users still find it hard to get a phone they like in all aspects. It's always a choice between the device's aesthetics and performance," Sky Li, founder and CEO of realme, told Pandaily in a rare interview.
Previously in charge of Oppo's overseas operations, Li figured this out during his frequent business trips to India. It became increasingly evident that there was a huge opportunity in Asia's emerging markets.
Not wasting a single moment, Li quickly assembled his team in April 2018, and just a month later, realme was born.
Its first model, realme 1, was released in late May when the company was still attached to Oppo. The first batch of 400,000 units sold out in 40 days after its exclusive debut on Amazon India.
Recognizing that this might be the start of something big, Li resigned from Oppo and officially established realme Aug. 28, 2018.
On the same day, the company released its first original model, realme 2, built with a 6.2-inch notched display and dual rear cameras. The phone is powered by a Qualcomm Snapdragon 450 chip and features a diamond-inspired design on its rear, which makes the device glitter.
Priced at roughly US$120, it sold 200,000 units in five minutes on Flipkart.
"We spent countless sleepless nights polishing realme's first original phone. We wanted to build a product that consumers would love, and we had to consider what kind of functions they would want in their phones and what kind of tradeoffs we had to make," Li, 45, recalled.
"At the same time, breaking into the overseas market four years ago was no walk in the park. We didn't have a lot of connections or experience in this area and had to start building everything from scratch. As I stepped outside of my comfort zone, I told myself, failure isn't an option," he added.
"But when we became the No. 1 brand on Flipkart, I knew we had made it. It was one of the best moments for me," Li said.
Today, products of the Shenzhen-based company are sold in 61 markets globally, and the company has grown to become one of the top five brands in its key markets, including India, Indonesia, Bangladesh and the Philippines.
Realme was also the fastest smartphone brand to reach 50 million sales, breaking records in only two years since its founding.
SEE ALSO: Realme Ranks 7th in World as Fastest Smartphone Brand to Reach 50M Product Sales
Closeness to Fans
From the start, realme had a precise target- young consumers who wish to purchase high-quality gadgets without breaking the bank.
Its marketing campaigns have largely focused on the young, hosting launch events at school campuses and nightclubs where keen, young fans would help the company set sales records over and over again.
Collaborating with the biggest KOLs in India – including Technical Guruji – realme also hosted unboxing and unveiling videos with live audiences of more than a thousand students who would travel from all over the country. This year alone in Indonesia, the company hosted 18 online and offline launch events, in venues including ice-skating rinks and gyms.
In one particular marketing campaign last September, the company's India CEO Madhav Sheth promised realme fans that he'd go skydiving — despite his fear of heights — and would add one foot for every ten units sold of the realme 5 Pro phone. He ended up jumping from a plane at 13,000 feet.
"It was a fantastic initiative. Madhav truly exhibited the brand's "Dare to Leap" spirit," said Francis Wang, marketing head of realme India.
The company also hosted photography, wallpaper and cover design competitions, with enthusiastic fans contributing more than 6,500 entries in 20 days. The winners of one the contests, Srisiti and Sriya, both in their early 20s, were invited to company headquarters for a chance to collaborate with the design team. Community managers of realme's forum and Facebook pages, who were originally huge realme fans themselves, were hired as interns.
As for the backend side of things, the team is constantly finding ways to surprise fans with the next update or phone release.
"We've always emphasized on building the best product there is. We strive to provide young people with products that combine trendsetting designs with leap-forward performance, while keeping the price affordable," Li said.
"Satisfaction from the customer and subsequent word-of-mouth beat any marketing strategy," he added.
After the successful launch of realme 1, the company organized its first meet-and-greet, sending out invites to their first batch of customers through Facebook.
"About 25 young fans showed up at this bar in Gurugram, and we spent the entire evening talking about the product. There were students, Android developers, and start-up CEOs," said realme's vice president and global marketing head Chase Xu, who came up with the idea for the event.
"We discussed what they liked and didn't like about realme's first phone, colors and design of the device, and what features they wanted to see in the next model," Xu said. He even asked for their opinion on the company slogan.
To this day, realme's core product team spends at least an hour every day trawling through comments from buyers online, and incorporate their suggestions into current projects.
"I want to change the color of the notification bar as well as the APP icons," wrote one comment on the realme forum, and hundreds of other users agreed. The development team sprung to work, unfazed by the 16-fold workload requiring them to create a total of 32 interfaces from the previous two for the UI 2.0 update plan.
"Placing great care about customer feedback and forming a quick response to the feedback is vital to me," Li said. "This is the only way to create a product that customers would love and appreciate in the shortest time."
The Passionate, Young Team behind realme's Success
Unlike other Chinese brands like Vivo and Oppo that invest in channel marketing and offline distribution, realme took advantage of the efficiency of e-commerce platforms and focused on online sales from the start.
With a strategy combining more value for less money and a customer-centric approach, realme quickly established itself as one of the top five bestselling smartphone brands in India by the last quarter of 2018. In October, the company managed record sale of two million units during Diwali, one of India's most important festivals.
"Truck after truck filled with realme's handsets went straight from the factory to Flipkart's warehouse. I've never seen anything like it," Wang said.
"A decade ago, when we mentioned 'Made in China' overseas, the general assumption of the product would be low-end and cheap, or that it was a copycat of some sort. Therefore, establishing our position as a mid-to-high-end brand and building our corporate reputation among customers was a real challenge," Li said.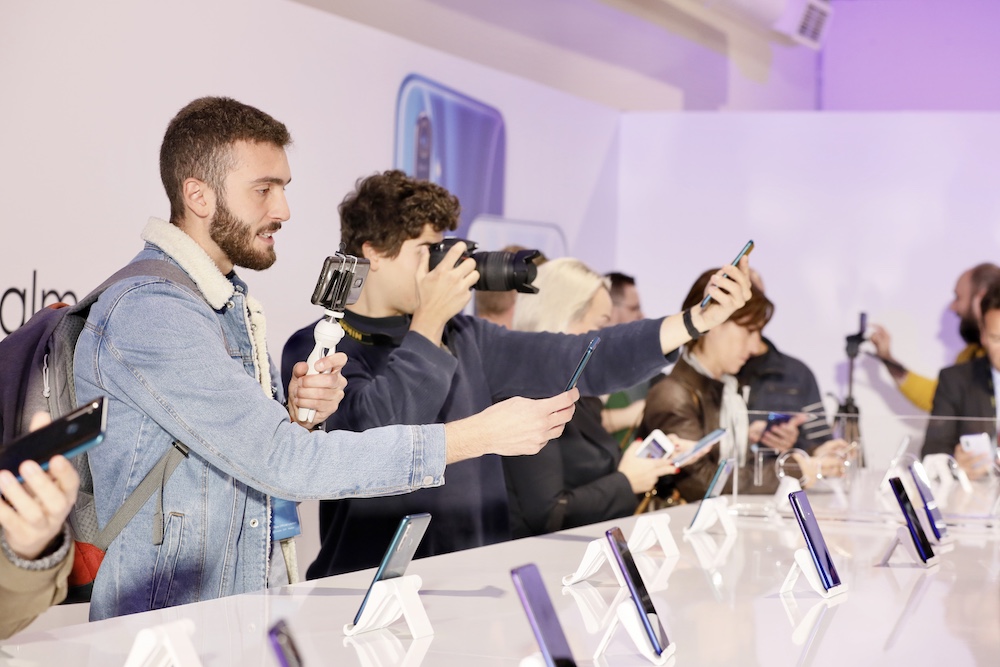 Realme's team of young, passionate employees, mostly under the age of 30, is rapidly becoming a unique force behind the company's ambitious global expansion.
"Having a young team behind the brand means a better understanding of the young customers who buy our products," said Sherry Dong, realme's Southeast Asia marketing director.
In the beginning, there were only eight people working on realme's Southeast Asia market, which covered eight countries then. An incredible amount of work — from locating sales channels to organizing launch events — would fall on each person on the team.
In October 2018, when realme first established their footing in the Indonesian market, five employees had to work out of a tiny apartment in Jakarta.
"The apartment was stuffed with paperwork. Timelines and marketing plans were scribbled across mirrors and walls. It almost looked like we were operating a pyramid scheme," Xu joked.
The Chinese calligraphy for 'Dare to Leap' (敢越级) on the company's marketing materials sent to the press was actually written by the father of realme's Indonesia CEO — once again, for the sake of cutting costs.
"When we first launched in Egypt, the marketing department had such a tight budget that I actually took most the photos on our Instagram and Facebook accounts myself during weekends," Dong said.
"We're a highly efficient team. When realme enters a market, everything from product development, marketing, sales and after services would happen at the same time," Xu said. "We would never sit on a problem."
Competitive pricing and efficient product launches aren't the only factors behind realme's rapid growth, Xu added. The company is also quick to respond to market research, which allows the team to localize its products and services to meet local market demands.
One particularly memorable example was when a customer complained about the camera's preset beauty filter, Xu recalled.
"He came to our offices with his phone and said whenever he had a video call with his wife, she would think that he was sick — because his complexion looked too pale! Needless to say, the product team immediately got to work," he said.
"Young people are hungry, curious and passionate — and those are their best qualities," Li said. "I have the utmost trust in my team and let them make all the final decisions. Right now, I'm more of a visionary leader that sets the direction of the company."
He also eradicated the Chinese term for boss "zong" (总) in the office, a practice that he adopted from Oppo, in an attempt to engineer a hierarchy-free workplace that would encourage partnership and innovation.
"Not only is Sky an expert in all areas of the smartphone business, from product and software development to sales channels to customer relationship management, he also knew exactly what to do at any point of the project," Wang said.
"When we were still immersed in the success of our online sales, Sky was already coming up with plans for our offline strategy. When we were still bathing in the success of our smartphone sales records, he's already suggesting developing AIoT products," he said.
"Sky is always one step ahead of us. That's why realme was able to grow so fast in just two years," he added.
Realme's Even Bolder Next Steps
This year, realme emerged as one of the most resilient brands during the coronavirus pandemic. In the first quarter of 2020, company sales grew 157% year on year, making it one of only two brands to record positive growth globally during the period.
It has also been named the fastest-growing smartphone brand by Counterpoint for four consecutive quarters from Q3 2019 to Q2 2020.
The brand had just broken into the South American market starting with Colombia, and is planning to launch in Mexico, Brazil, Chile and Peru before the end of the year.
In May last year, it finally returned to China, the world's biggest smartphone market – and one of the most saturated – where it introduced the world's cheapest 5G smartphone at 999 yuan (US$150). The budget realme V3 5G is equipped with a 6.52-inch HD+ LCD display and is powered by a MediaTek Dimensity 720 processor.
At the same time, realme is aggressively venturing into other areas besides smartphones. It's rapidly building an ecosystem for its young users, and is on track to introduce more than 50 AIoT (Artificial Intelligence of Things) products from various categories by the end of 2020 and another 100 products next year.
"We're going to cover all products related to a young person's every day life — and that includes smartphones and non-smartphone products. We hope to engage generations after generations of young users," Dong said, adding that future plans include the launch of a brand mascot, offline experience hubs and an array of voice-control devices.
"We're using Internet of Things as a starting point and platform to create a hardware- and software-based ecosystem," Li said.
Right now, its trendy and well-designed TV sets, wireless earphones and electric toothbrushes have become best-sellers in several markets.
"I've always envisioned realme as a global brand. We want to become the world's most popular tech lifestyle brand among young people. We have a long way to go," Li said.
Looking back, Li attributed realme's success to three factors: brand positioning, the product itself and an efficient sales model. His biggest mission now is to further develop realme into a healthy and even faster-growing corporation while staying true to its original mission and aspirations. The company aims to sell 100 million smartphones a year worldwide.
"I did realize my dream by creating realme. The dream isn't about entrepreneurship — that's not a difficult thing to do — but to live every single day with passion, have a willingness to meet new challenges and truly live up to the 'Dare to Leap' spirit — there aren't too many opportunities in life like that," he said.
Sign up today for 5 free articles monthly!