Live Streaming E-Commerce Is All the Rage In China
On July 2, Chinese tech giants Bytedance invested in Hangzhou Weinian Brand Management Co., Ltd(Weinian), a contracted company of Li Ziqi, one of China's most globally popular online influencers. This move showed Bytedance's ambition to expand its footprint in the booming livestream and new consumption sectors.
Bytedance has taken a stake of 1.48 percent in Weinian, according to data from Tianyancha, a Chinese corporate database. Established in 2013, Weinian is a multichannel Networks(MCN) company focused on new consumer areas. Li is the most famous online celebrity in the company, with 15.7 million subscribers on YouTube and 3.2 million followers on Tiktok. After attracting millions of fans online, Li turned her fame into business, selling local specialties such as Luosifen on Chinese e-commerce platforms.
The news went viral on Weibo, a Twitter-like platform, with the 420 million netizens participating in the discussion. "The cooperation between Bytedance and Li Ziqi could help expand the promotion of Chinese culture overseas as both retain enormous influences board," one netizen commented.
This is not the first MCN company where ByteDance invested. According to the TMTPost reported May, Bytedance has invested in 28 companies that have become popular among young consumers since 2020. Mountain Top, a famous Chinese celebrity management agency that creates many popular idols is among those companies with Bytedance holding 8.85 percent of its shares.
"For Bytedance, collaborating with companies like Weinian and work with key opinion leaders or idols can generate more traffic for brands from popular platforms such as Douyin, Chinese version of TikTok," said Dong Dengxin, director of the Finance and Securities Institute of Wuhan University in an interview with the Global Times.
The deal with Weinian shows that ByteDance eyes on expanding its live streaming business targeting more industries and better integrating its invested companies from the new consumption sector into the company's ecosystem said Dong.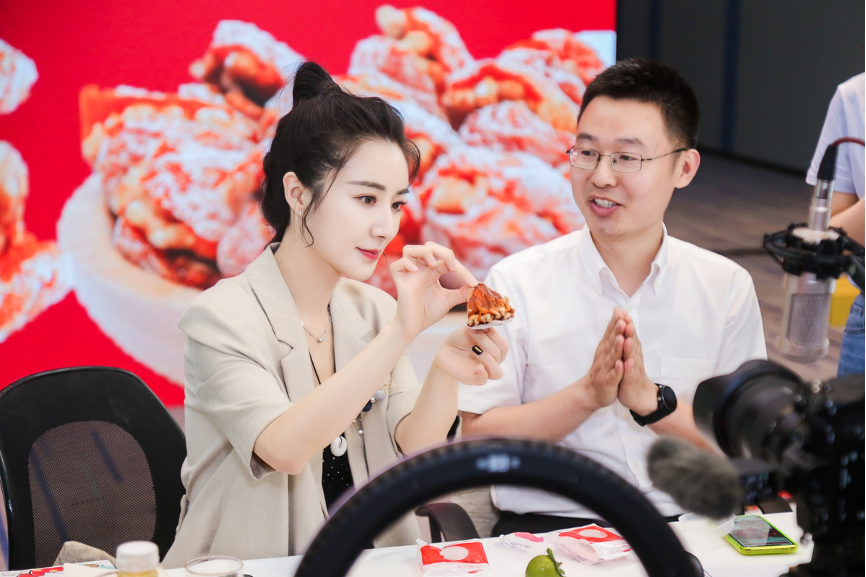 Viya(L), a top online influencers on Taobao Live, sells goods via livestreaming. [Photo/China Daily]
First started in China five years ago, Chinese live-streaming e-commerce enters its prime time as the COVID-19 pandemic propelled the increasing number of people, especially the younger generation, to shift their shopping from in-store to online.
According to a China Internet Network Information Center report, a government agency, between March and December 2020, the number of live streaming e-commerce users in China has climbed to 388 million, surging by 123 million.
As the popular way to reach out the potential customers, the Chinese live-streaming e-commerce market yield annual growth of 121.5 percent last year, with the revenue reaching 961 billion yuan, according to iiMedia Research, a data mining and analysis firm. As of June 2020, China's live-streaming consumers accounted for about a third of the internet population.
The lucrative industry has fueled the mushrooming of MCN companies like Weinan, which pull out all stops to mint the live-streamers selling everything from lipsticks to cars. Data from Guoji, an agency tracking e-commerce data, shows that Viya, a Chinese live-streaming diva with over 80 million followers on Alibaba's Taobao, sold 38.6 billion worth of goods in 2020. The success of top influencers has made the industry a Mecca for live-streaming wannabes who want to make a fortune in this industry and dream of becoming the next live-streaming star.
The support of the government also guarantees the industry's promising future. The General Office of the State Council released a guideline on September 21, 2020, aiming to drive new types of consumption with new business models and patterns. According to the guideline, the government will refine its Internet Plus services and public service platforms for e-commerce and further integration between online and offline consumption.
The massive market and favorable policy have pushed the live-streaming industry into the fast lane, luring Chinese tech behemoths, such as Alibaba, Bytedance, and Kuaishou, to jostle for a slice of the thriving market.
For years, Alibaba, China's most giant e-commerce powerhouse, has popularized the concept of "live streaming e-commerce," which combines traditional commercial property with the live-streaming business. Taobao Live, the live-streaming platform for merchants on Alibaba Group's Holding's online marketplace Taobao, has generated over 400 billion yuan in gross merchandise volume(GMV)in 2020, with the lion's share of live-streaming at around 80%. GMV is a metric commonly used in e-commerce to measure the total value of goods sold over a certain period.
To expand the platform's GMV, the company spotted a new way –taping international influencers to sell more globally, to grab people's attention. Last year, Alibaba announced that it plans to build an army of influencers numbering more than 1 million in three years.
Coveting the industry's enormous profits, other firms jumped on the live-streaming e-commerce bandwagons, and Kuaishou was among them. As the social media giant with 305 million daily active users and top contender of Douyin, Kuaishou makes money primarily through selling virtual gifts that users buy for their favorite live streamers. To diversify the business, Kuaishou has been shifting its focus to e-commerce areas. In June 2019, Kuaishou opened an e-commerce department, planning to create a platform that seamlessly blends e-commerce, short videos, and live-streaming.
Both backed by China's tech giant Tencent, Kuaishou and JD.com inked a partnership in 2020 to develop a short video e-commerce live streaming ecosystem that Kuaishou's users can purchase goods from JD.com through live streaming shows without switching to JD.com's platform and they can enjoy the fast delivery and after-sales service provided by JD, which would simplify and facilitate the shopping experience. The move aims at appealing to more users to buy goods via live streaming in Kuaishou, earning two firms the slot in the rapidly growing but competitive industry.
According to Kuaishou, the total GMV of e-commerce transactions facilitated on Kuaishou was 118.6 billion yuan in Q1 2021, increasing 219,8% from the same quarter last year.
SEE ALSO: Kuaishou E-Commerce Holds Investment Promotion Conference for Books and Education to Support Partners
With live streaming e-commerce players springing up in recent years, the industry has become a new battleground for tech giants and start-ups. Investing in Weinai latest tactics, but it won't be the last one.
Sign up today for 5 free articles monthly!