Best Free Dating Apps in China 2020
During the pandemic people are stuck at home and discouraged to meet up in person, thus online dating apps have seen a significant increase in usage. Here are the most popular dating apps in China.
Soul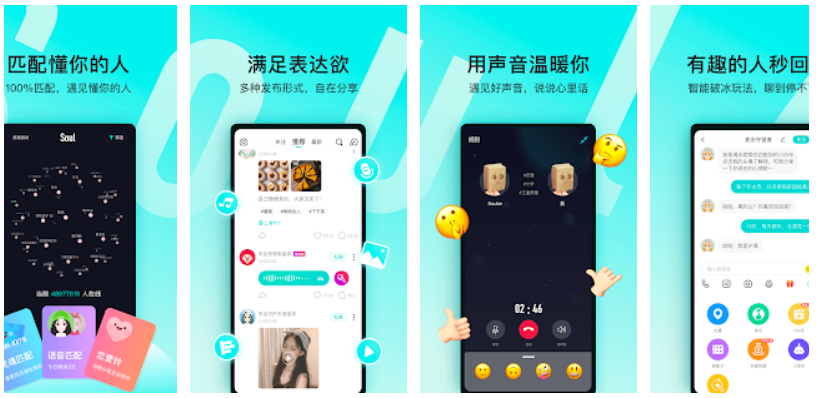 Soul app was launched by Shanghai-based Renyimen Technology in 2015, allowing the young generation, especially Generation Z, to find matches based on their common interests. It had around 10 million MAU, or monthly active users, as of September 2019.
Unlike other dating apps, such as Tantan and Momo, that use location and photos to find matches, the Soul app requires users to take a personality test before using it. The matches are recommended based on the results of the personality test. Users cannot see any personal information of other registered users aside from their test match score and their public posts.
Tantan
Tantan is another popular mobile social dating app in China, allowing users to swipe right or left and connect with new people. Since its launch in 2014, Tantan has more than 36 million users worldwide, of which those born after the 1990s account for nearly 80% of the user base and over 60% of the active users have completed avatar authentication.
Much like Tinder, Tantan is a location-based dating app, matching people based on common tags such as hobbies and interests as well as having visited the same places. Users can chat with their matches using text, voice and video, features that enable users to get to know each other before meeting in real life. An interesting feature of Tantan is its secret crush option, which allows you "secretly like" one of your contacts. Tantan helps you to connect with that person, and if that contact secretly likes you back, the app will let you know.
MOMO, launched in 2011, is a mobile social platform connecting people and facilitating interactions based on location, interests and a variety of recreational activities including live talent shows, short videos, and social games. The MAU on Momo were 108.0 million in March 2020, compared to 114.4 million a year before. In May 2018, its parent company Momo (NASDAQ:MOMO) completed its acquisition of Tantan, a leading dating app for the younger generation in China.
Momo offers users a platform to post videos, text, voice clips, and pictures. Like most other dating APPs, users can find people and groups nearby all while keeping their true location hidden from view. Momo also features audio and video livestreaming in different categories, including music, outdoors, talk shows, and gaming.
Blued
Blued is China's largest gay dating app for men, as well as one of the biggest gay social networking dating apps in the world. Founded in 2012, the free app now counts more than 49 million registered users in 210 countries and regions as of the first quarter of 2020, and nearly half of its 6 million monthly active users are based overseas.
SEE ALSO: Gay Dating App Blued Aims at $50M US IPO
Blued provides communication, social networking and live streaming services based on geolocation. The APP also includes services such as health and family planning, and aims to address the "full life cycle needs" of the LGBTQ population.
Yidui
Launched in 2018, Yidui is an online video dating app in China which particularly focuses on providing real-time Internet dating services for lower-tier cities. It has currently raised up to $10 million Series A+ in a funding round led by XVC in 2019.
The video dating app employs a matchmaker service system through which users can join livestreaming chats hosted by matchmakers. In these matchmaking sessions, users are helped with conversation starters and topics of interest that further enhance users' experience with the APP as well as make the match making much more efficient. Besides joining livestreaming chats hosted by matchmakers, users can also choose who to chat with by following them after scrolling through an algorithmic list of recommendations.
Sign up today for 5 free articles monthly!