Apple Retracts Overpayment to Chinese Developers
Apple informed Chinese app developers who were accidentally overpaid that they will soon be contacted by their bank for a return of the incorrectly issued payment, according to a screenshot of an e-mail shared on Weibo on September 5 by waylybaye, one of the overpaid developers.
SEE ALSO: Apple Mistakenly Pays Chinese Developers 7 Times Their Income
Apple explained in the email that Deutsche Bank had experienced an unspecified issue that resulted in higher payments to developers and added that the bank was reprocessing the developer's July earnings to correct the error.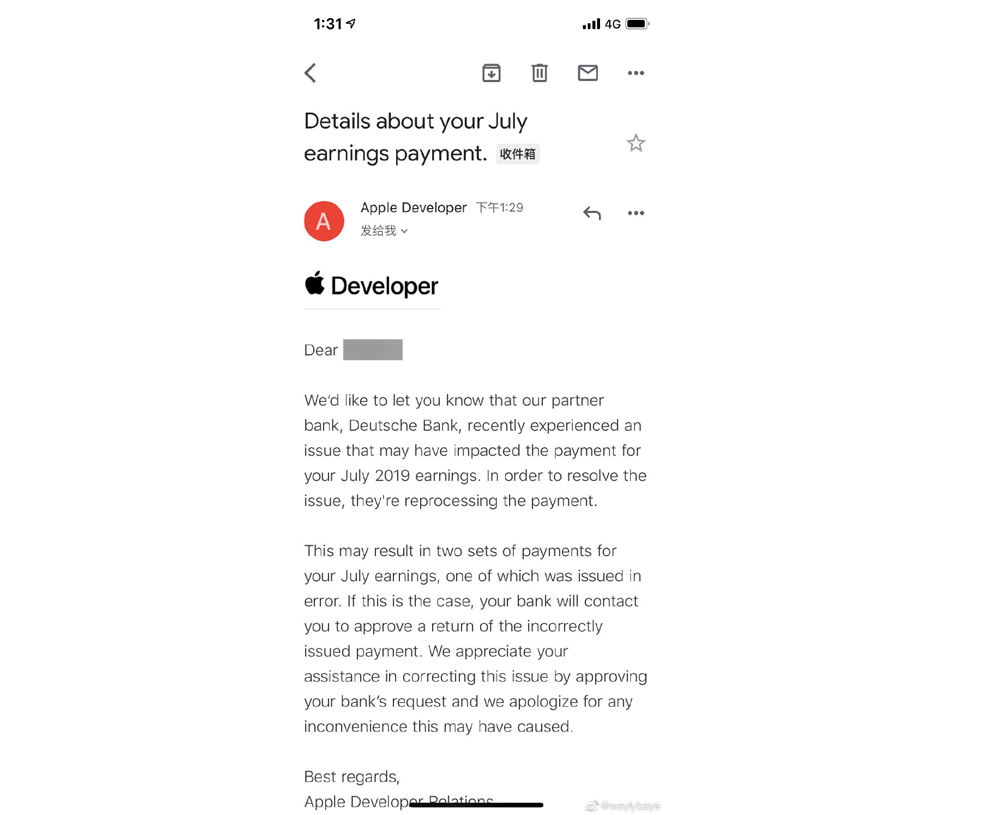 "Apple sent an email saying that Deutsche Bank had made a mistake. Apple 'asked' developers to approve a return of the incorrectly issued payment, and will send the right amount of money later. We can't really disapprove, because we are depending on you [Apple] to live," posted waylybaye.
The developer of a news app called Follow-ups, or 后续 (houxu) in Chinese, Waylybaye posted two days ago that Apple mistakenly paid him and other Chinese developers sevenfold their earnings. Although they were pleasantly surprised, they had no idea how to deal with the faulty payment.
The outcomes could be serious since China has a large developer community. As of June, the number of Chinese developers for Apple's App Store topped 2.2 million and global app sales exceeded 200 billion yuan ($28.0 billion) since 2010, when the marketplace was launched, according to Xinhua News Agency.
Deutsche Bank has a history of transaction errors, often due to mixed up currencies. It transferred 28 billion euros ($33 billion) instead of 28 billion yen ($257 million) to its account at Eurex Exchange in 2018. Three years earlier, it incorrectly wired $6 billion to a client's escrow account. And in 2014, it mistakenly transferred $24.6 billion to Macquarie Bank, according to 36Kr.
Sign up today for 5 free articles monthly!