Xiaomi's Best Fitness Trackers: Mi Band 5 vs Mi Band 4
Xiaomi launched its highly anticipated fitness tracker, the Mi Band 5, in China on June 11, and has confirmed on Twitter that a global version called the Mi Smart Band 5 will come in July. Carrying forward many similar designs from its predecessor the Mi Band 4, which is still one of the best selling fitness tracker released in June 2019, the latest fitness tracker Mi Band 5 has been updated and brings a ton of new features at a super low price.
Mi Band 5 vs Mi Band 4: Display
The Xiaomi Mi Band 5 comes with a 1.1-inch AMOLED display, 20% larger than Mi Band 4's 0.95-inches; Xiaomi has also upped its brightness from 400 nits on Mi Band 4 to 450 nits on the new one. Since the fourth generation fitness band, Xiaomi bands feature colored displays. The Mi Band 4 has 77 watch faces, whereas, the Mi Band 5 offers over 100 options.
SEE ALSO: All You Need to Know About Xiaomi's New Fitness Tracker Mi Band 4
Mi Band 5 vs Mi Band 4: Sports Mode
The Mi Band 5 gets 5 new sports modes. In addition to the shared outdoor running, pool swimming, walking, treadmill, indoor cycling, and freestyle, it now has new indoor activity modes, such as the elliptical, rowing machine, jump rope, indoor cycling and yoga.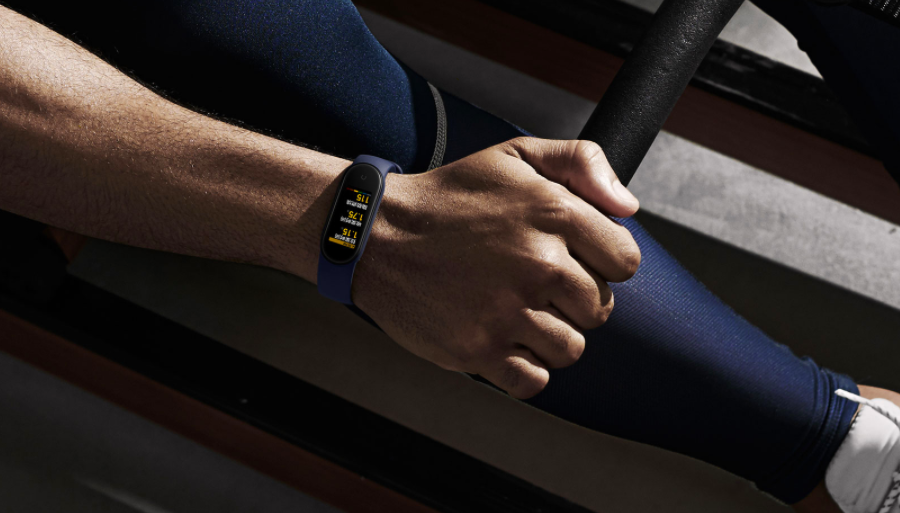 Mi Band 5 vs Mi Band 4: Health Tracking
The Xiaomi Mi Band 5 has introduced more health-related features. It improves sleep monitoring accuracy, including irregular and sporadic sleep patterns, and supports a 24-hour heart rate monitoring function. To solve the sub-optimal health issues in modern life, the Band 5 has built-in Personal Activity Intelligence, (a feature of Huami Amazfit smartwatch) Activity Index, which allows people to calculate the levels of their heart rate using a specific algorithm and can provide users with helpful information to aid in exercises and workouts. With the newly added women's health mode, it can be a good fitness tracker choice for female users.
Mi Band 5 vs Mi Band 4: Battery Life
The Mi Band's super long battery life has attracted many people to choose Xiaomi's fitness tracker among so many smart wearable brands. The new Mi Smart Band 5 adopts a brand new charging solution – magnetic snap-on charger, so users can simply charge the band without removing the strap, which is more convenient than the previous capsule charger. With a 135 mAh battery, the Mi Band 4 can last for up to 20 days. However, to power the larger, brighter screen and new features, the Mi Band 5 NFC version only supports 14 days of continuous usage.
SEE ALSO: Best Smartwatches to Buy for Android and iPhone Users in 2019
Mi Band 5 vs Mi Band 4: Price
Now in China, the Mi Band 4 NFC edition sells for 199 yuan, and the Mi Band 5 will be available at 189 yuan, while its NFC version retails for 229 yuan. Compare to other smartwatches and fitness trackers, Xiaomi keeps surprising people with affordable smart trackers. The new generation fitness tracker is still cheaper than Fitbit's most affordable Inspire.
Sign up today for 5 free articles monthly!