Understanding Meta-morphic: A Meeting of Nature, Life, and Technology
NFTs present unique ownership that is coded on the blockchain. Uniqueness in terms of the value of the NFT, however, is decided by the community.
PFP NFT projects, such as CryptoPunks and the Bored Ape Yacht Club, have so far emerged as the leading art-related projects in the Web3 space. PFPs typically express community, anonymity, and rebellion. The hallmark of this type of NFT is its ability to integrate the power of the community through marketing and celebrity endorsements, propelling NFTs to a high level of prestige in the trading market.
Aside from the PFP projects, there is growing demand and fascination for artist-led NFT collections. Artists form individual universes by bringing together their own unique concepts, media, and styles. Traditional artist communities often only converge for brief moments and are confined to the auction room or art gallery.
One in-demand Chinese artist, Huang Yuxing, explores nature and life through paint and minerals. Now, he is venturing into NFTs, creating digital artwork with the same notions and styles as his paintings. Will Huang's digital works gain more recognition?
SEE ALSO: From Creation to Value: Understanding Huang Yuxing's Blue Chip NFT Series "Meta-Morphic"
Huang states, "Meta-morphic is my first generative NFT project. This new medium allows a new kind of exploration of recurring motifs in my work – minerals, bubbles, and rivers – and the themes of nature and time that are hallmarks of my artistic journey."
Born in 1975, Huang Yuxing graduated from the Central Academy of Fine Arts in 2000. His most recent auction was at Christie's, where his work Seven Treasure Pines sold for HK$64.8 million ($8.3 million), more than 13 times its estimated high, setting an auction record for a work by a Chinese artist born after 1970.
Huang Yuxing's style references traditional Chinese landscape painting, and he creates works that are near-abstract, ultra-modern and marked by intense color. He invites the viewer into his imagined universe.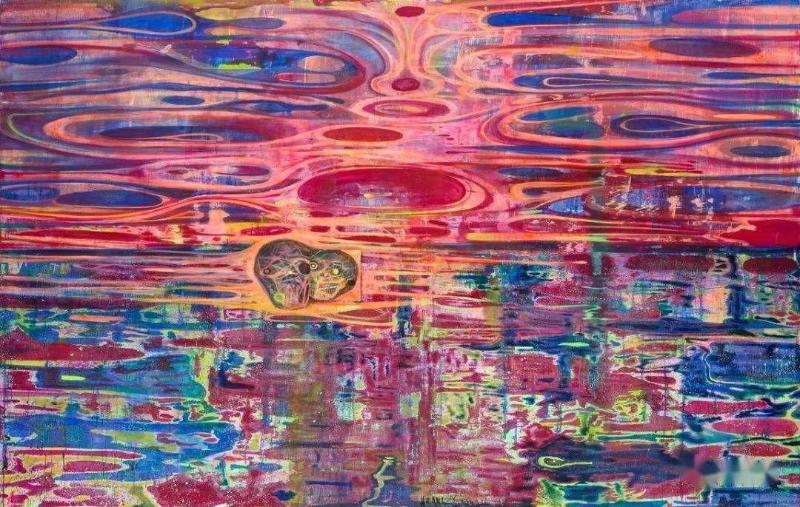 Huang was also ranked among the top three artists in the Chinese market in 2021, with a turnover of over 100 million yuan.
Huang Yuxing openly shares his excitement for digital art and NFTs. "The field of digital art is a completely new one that I had not set foot in before, and I got involved out of curiosity," says Huang. "Driven by a sense of curiosity about the unknown, I stepped into this field for the first time."
When Huang Yuxing talks about his works, his concern does not lie in the medium itself, but rather in his ideas and creative process – how he creates art through his own consciousness and the ideas that he wants to convey to his audience.
Huang Yuxing's Meta-morphic genesis NFT collection serves to share more closely his thought process and the power of his art. Each NFT collector is left to closely interpret the artworks, each of which is endowed with rich meaning.
Meta-morphic consists of 2,197 mystery boxes holding the Seven Treasures (gemstones and minerals).
Meta-morphic is based on seven mineral treasures: Coral, Agate, Pearl, Gold, Silver, Seashell, and Turquoise. In turn, they represent the seven powers: Fortune, Creativity, Health, Longevity, Purity, Protection and Wisdom.
Meta-morphic is written as "曜变之石" in Chinese. Interestingly, the character "曜" primarily connotes light, although the sun, the moon and the stars can all be referred to by the same character. The sun, the moon, and the five stars – fire, water, wood, gold, and earth – are also called the "seven 曜," corresponding perfectly with Huang Yuxing's  Seven Treasures.
Born from paintings and beyond, the 2,197 Meta-morphic NFTs will be generated from 3D design and encryption algorithms. Each Meta-morphic NFT is a mineral floating in multi-dimensional space, with different forms and connotations. While real minerals eventually erode, these 2,197 Meta-morphic NFTs will be immortalized through NFTs.
The collection opens with gemstones, as they are the focal point of Huang Yuxing's work. Proceeding chapters see the inclusion of gemstones, bubbles, rivers, and pines. Huang considers these elements to be directional. "The river itself refers to something else," he says. "It contains my initial understanding of life. For the 'treasure' in the Treasure series, I understand it as a kind of wisdom and a sense of civilization. At the same time, it breeds many other feelings in itself, for example, in religion or politics, it symbolizes power, wealth and the unknown. It can be interpreted as many things, and it gives people a broader scope of interpretation."
In the creation process for Meta-morphic, we can see the progression from figurative to abstract, seeing that even a small stone contains the reflection of the universe. The gemstones, bubbles, rivers and pine trees are all "meta-images." From the moment the collector opens a Mystery Box, they have unlocked an artistic conversation with Huang Yuxing.
As Huang has said, "There are 100 definitions of gemstones in the minds of 100 people, and this is still a matter of opinion. Each person's worldview, values, and past system of growth are different, and their definition of a gemstone will be different. It all depends on their own definition of a gemstone."
The Meta-morphic collection is fully supported by LiveArt. The mission of LiveArt is to connect the art world to Web3, and to help more artists, collectors and collaborators experience the power of artworks through a new artistic medium.
As Marisa Kayyem, LiveArt's Chief Curator states, "LiveArt is dedicated to bringing exceptional artists to Web3. Digital art has both thematic and cultural significance. It alters how artists create and collectors collect, and we want to share Huang's exceptional vision with our audience in a new way. The Meta-morphic collection does precisely that."
What is the biggest difference between Web3 art platforms and Web2 art platforms? For artists, Web3 digital technology offers a new form of creation in which artworks take on a richer expression. With Web3 art platforms, artists will be able to bring these works to more collectors soon. Meanwhile, collectors of NFT artworks tend to form a community, meaning that interpretation is no longer solitary, but resonates in the community.
Blockchain plays a key role in this transformation of platform attributes and reconfiguration of relationships – NFTs ensure a collector's ownership of the corresponding artwork. While resonating, they also protect the rights and interests of each collector and the value of their collection.
Presale for Meta-morphic will be launched by LiveArt on September 23, 2022, with a total of 800 Blind Boxes available. Early birds, the LiveArt community, members, and others will have the opportunity to participate in the presale.
After presale, Meta-morphic will distribute another 1,200 Mystery Boxes through public sales.
Sign up today for 5 free articles monthly!