Tmall Supermarket Launches Products Showing Carbon Footprint in QR Code
Tmall Supermarket, an Alibaba-owned grocery purchasing platform, unveiled its "carbon footprint" certification series of products this week at the first Global Digital Trade Expo in Hangzhou, China's Zhejiang Province.
The platform manages the carbon reduction in the design, production and sales of products, and calculates carbon footprints through cooperation with Alibaba Cloud's energy consumption tool.
The series of products, including disposable paper cups, paper trays, bamboo chopsticks, baking paper and portable underwear, are available on Tmall Supermarket by searching for "carbon footprint". Consumers can then obtain the carbon reduction footprint of the goods by scanning the QR code on the packaging.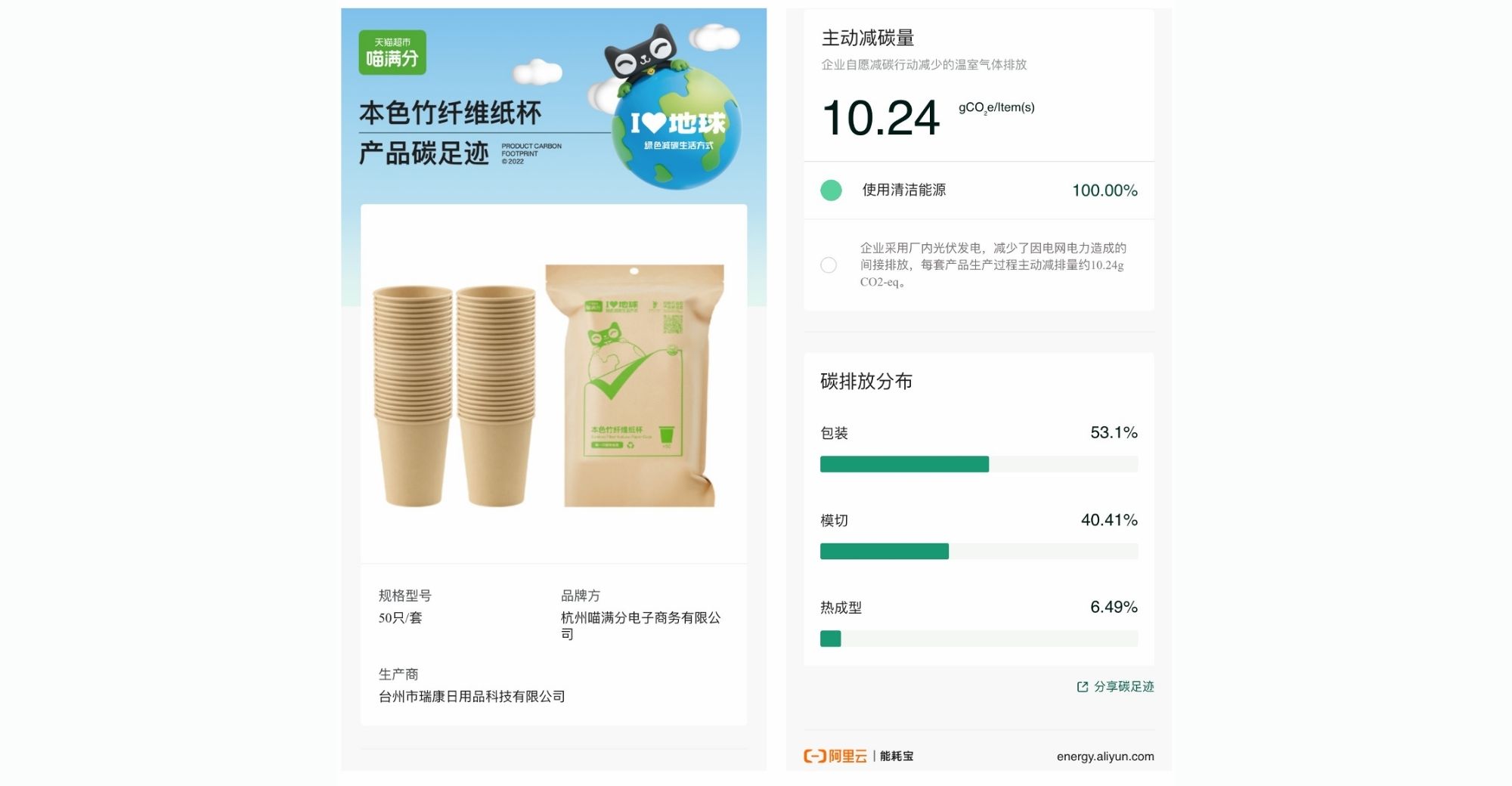 Yunlong Pei, the head of green supply chains for Tmall Supermarket, noted that they have added carbon emission reduction assessment for the first time when choosing production sites. The evaluation method is based on environmental impact and resource efficiency. The first step is to find factories with green awareness through evaluation. Tmall Supermarket will gradually optimize supply chains with them to reduce carbon emissions.
Since the first half of this year, Tmall Supermarket has assessed 21 factories in terms of management structure, carbon emission data verification, carbon trading and other indicators. As a provider of sugarcane paper trays and bamboo fiber paper cups, Zhejiang Taizhou Ruikang Daily Necessities Technology Co., Ltd. has passed the assessment and become the first factory working with Tamll Supermarket on these products.
Yongjian Zhao, the head of Ruikang, said that the company's factories made use of energy generated from 10,000 square meters of photovoltaic power generation equipment. Tmall Supermarket is the first platform that it encountered to take carbon reduction assessment as the standard for factory review. "Our factories have systems for centralized feeding, surplus recovery and heat energy recovery. From the first factory review to the present, we have optimized some production links together to save energy and improve production efficiency. The carbon reduction footprint of our factories was shown in a digital way through cooperation with Tmall Supermarket. It's also an encouragement for us," said Zhao.
In order to ensure a more accurate calculation of carbon reduction across each link, Tmall Supermarket introduced Alibaba Cloud's energy consumption tool to put forward suggestions from the aspects of the production process, raw materials and energy use.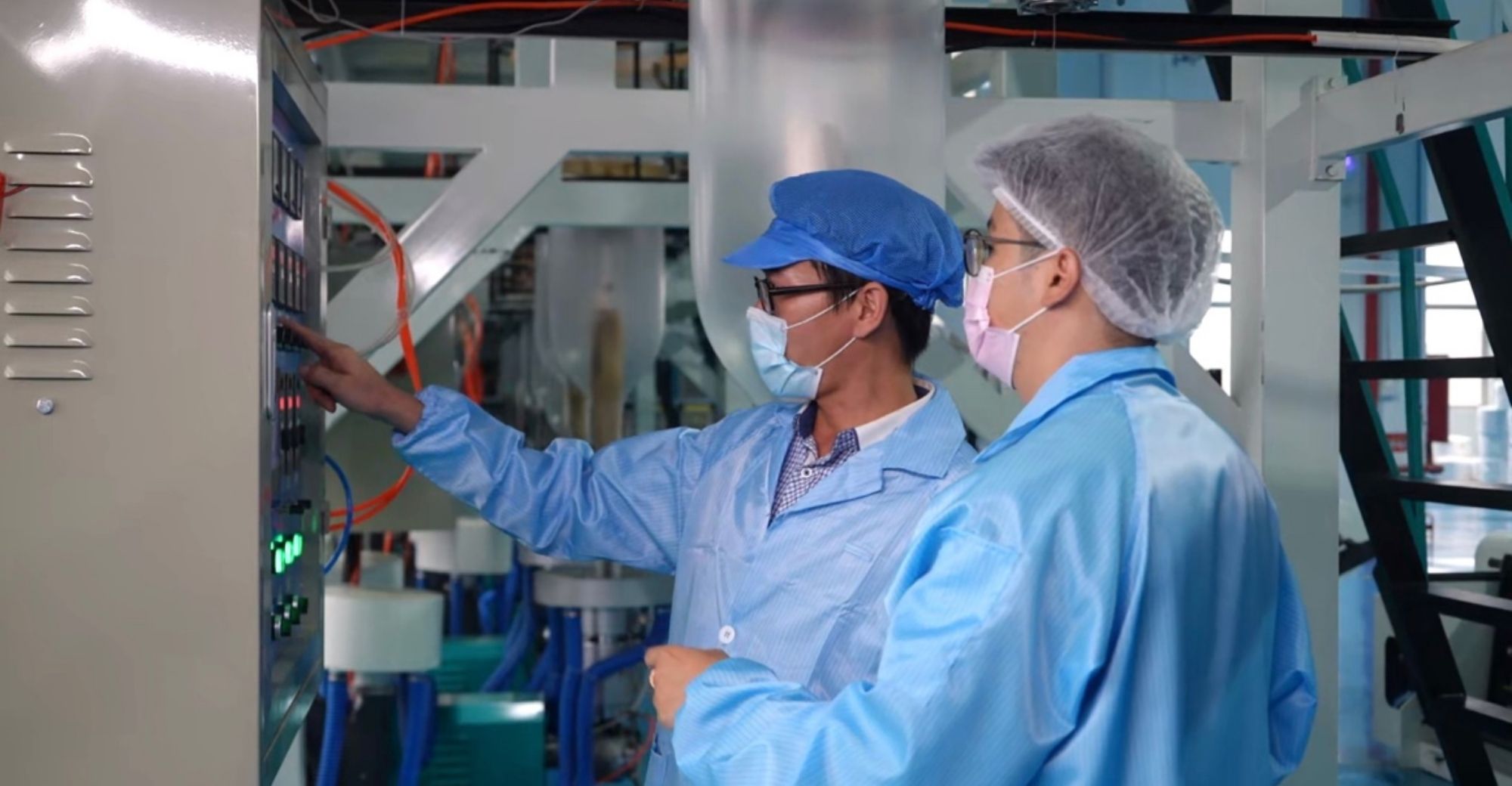 In Ruikang, Can Yuan, the technical director of Alibaba Cloud's energy consumption tool, found that energy consumption per unit output of the two production lines at the factory was different. This was because the heating temperature of one of them was too high, and the production of paper cups did not need such a high temperature. Through calculation, Alibaba Cloud assisted the factory to adjust some production equipment according to its actual needs. It is estimated that 300,000 kWh of electricity will be saved and 140 tons of carbon dioxide will be reduced a year.
SEE ALSO: "No tableware" Orders Reach 1.3 Billion on Ele.me, Driven by Carbon Emission Reduction Advocation
Tmall Supermarket will continue to improve carbon emission reduction assessment standards. However, standards are only tools. In the end, the platform hopes to find more partners with carbon reduction awareness and willingness to allow more people to participate. New products, such as multifunctional storage boxes with recycled plastic bottles as raw materials, will also be launched through cooperation with beverage brands.
Sign up today for 5 free articles monthly!