The Core of Didi's Carpool Service Hitch Problem Should be Safety Concerns Rather Than Equal Rights
Didi Chuxing, China's Uber-like ride-sharing service provider, has once again plunged itself into a gender-related crisis. One day after the company announced the relaunch of its Hitch carpooling service with curfew on female passengers, it revised the service to provide equal hours of service to all genders on Nov. 7.
"Before we announced such a plan, we didn't open up our discussions with the public and listen to opinions from each side. We are truly sorry that our inconsideration and miscommunication has caused such trouble," Didi said in an announcement.
It seemed that feminists have won a battle against big companies in providing equal services. But if we trace back to the two murders that occurred using the Hitch service last year, the safety concerns of using the Hitch service still exists for all genders. "Didi shifted the focus of manually checking the drivers to restrictions on female passengers yesterday and onto gender conflict today," said China's #MeToo movement pioneer Zhou Xiaoxuan, who uses an alias Xianzi on China's twitter Weibo.
The battle isn't just about protecting females or provide equal services. It's about how Didi can provide a safer Hitch carpooling service to all passengers as the company continues to monopolize the ride-sharing industry. "Whether the update can address safety issues, we still have many questions," said Chen Yaya, a feminist with 200,000 fans on Weibo, China's Twitter.
What has happened over the year?
The controversial Hitch feature is a carpooling function that matches private car owners, instead of registered Didi drivers that operate in Didi's other ride-hailing services like Express, Taxi and Luxe, with passengers going in the same direction. Didi suspended the service last August after two female passengers were murdered within four months.
In the first murder, a 21-year-old flight attendant was killed by a driver after hailing a ride downtown from the airport in Zhengzhou, a northern Chinese city, on May 6, 2018, according to local police. Didi later explained that they failed to recognize that the driver's account belonged to the murderer's father, while their facial recognition system wasn't functioning at night and they didn't follow up on a previous complaint about the murderer's verbal sexual harassment.
Three months later, a 20-year-old girl was raped and murdered after catching a ride on Didi's Hitch service. She went missing at around 2 p.m., when she sent a message to her friend calling for help. Didi was blamed for not responding to the missing person case in a more timely manner, and not addressing a previous complaint against the driver.
The company suspended the Hitch function to overhaul the app's safety and security practices. They published a draft for reforming the function on July 18 this year to test public opinion, claiming that the team had been working for 325 days to iterate 12 versions of the product and optimize 226 functions.
How does the new Hitch service protect female passengers? Is it sufficient?
When the Hitch service restarts on a trial basis from Nov. 20 in seven cities including Beijing, it will be reintroduced with improved safety features, such as facial recognition, real-name registration and taking photos of original IDs instead of uploading copies, which were developed to avoid cases like the first murder.
Other functions include cooperating with the police department to go through drivers' background checks, providing safety education for Hitch drivers and forbidding public defaulters, whose information can be found on a government page, from registering as a Didi Hitch driver.
Passengers can now find a Safety Center on their ride-hailing page, which "monitors drivers to ensure safety."
"For the background check, Hitch service providers shouldn't have any record of committing a crime, taking drugs or other serious misbehavior," said Didi spokesperson.
As of Oct, 2019, a total of 21 million drivers completed and passed online and offline safety training courses and examinations, according to the spokesperson.
However, Zhou thought all these technologies were nothing but fluff. She commented, "Didi's key argument was that Didi has done everything they could have done. But is that really the truth?" She cited the newly adopted facial recognition system and photo capture of ID as an example. "These seem super high-tech right? But actually what Didi is trying to do is to make sure that the registered driver is the one who is driving the registered vehicle. That is a basic standard for car hailing services, which the taxi industry solved years ago."
It was also funny enough that while Didi has been propagating their safety assurance measures, my Didi Express driver, a middle-aged woman, told me on Nov.8 that she hasn't taken any of these safety education courses when she's been taking orders for over a month. What's more, the Didi app actually said that she passed the safety training in the Safety Center on Didi app. Confused as I was, I tried to click on the "more details" button for further explanation. The button simply wouldn't work.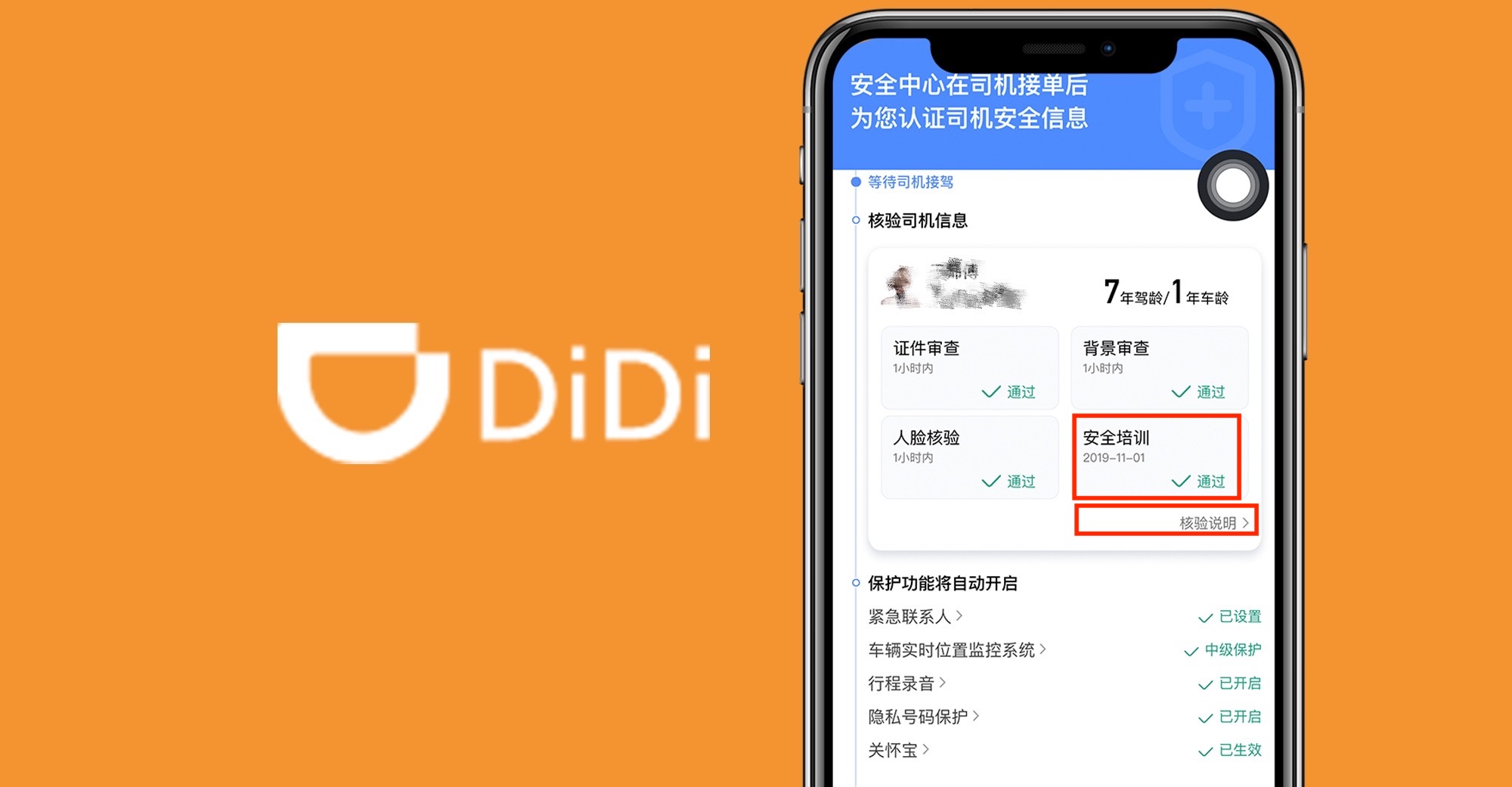 Unlike Didi Hitch, Didi Express is supposed to have higher standards for drivers. How can customers trust Didi or Didi Hitch if the company lied on their higher quality service?
Where should we look for improvement?
If we take a step back from the feminism mist over the re-launched Didi Hitch service, the essential question we should be asking is what detailed requirements has Didi implemented for Hitch drivers and what kind of product does the company envision Hitch to be?
One thing to notice is that almost all discussions and complaints have been tied to Didi Hitch, instead of any other online ride-hailing services that Didi offers, such as Express, Taxi, Premier and Luxe. Unlike regular Didi drivers, Hitch drivers are private car owners who could choose to pick up passengers if they are going in the same direction. While other Didi drivers drive around part-time or full-time as a job, Hitch drivers are essentially just earning some extra pocket money.
For regular online car-hailing services, the Chinese government has issued regulations to ensure the safety and rights of the passengers. The regulations made it clear that regular Didi drivers should have more than three years of driving experience. They should have no record of traffic accident crimes, dangerous driving crimes and no drug history or drunk-driving history.
However, for the Hitch service, there are no national laws or regulations except for those stipulated at the local level. Beijing issued a guidance on private car owners sharing a ride with passengers, saying that drivers should have over one-year experience in driving and take less than two orders per day.
"Didi has been taking undue advantage of the loopholes in the regulations," said Zhou, "because the Hitch service doesn't belong to any regular online car-hailing services."
When I asked a Didi spokesperson about their detailed requirement for Hitch drivers to align with local laws and regulations, no response was received. "Didi's biggest problem is that the basic requirement for Hitch drivers is way lower than those who drive Express, Premier and Luxe," Zhou said.
Another feature that has made the Hitch service controversial was the social function with sexual implications. "The two hours you spend on commuting was a waste of time in the past. However, you can now meet reliable people and enjoy social networking with Didi's Hitch service. The hours have become a benefit. Private cars can be a semi-open and semi-private social space, like cafes and restaurants, which didn't exist before," said Huang Jieli, Didi's previous head of the business division. "This is a very sexy scene that will be probably be popular. We have been super clear about this direction from the very beginning."
Because Didi wanted to build the Hitch service into a social platform, they allowed Hitch drivers to give personalized tags to passengers. Drivers could also see what tags previous drivers have left for the passengers and commented down below. The built-in tags included leading descriptions such as "super hot" and "sweet voice." Worse discussions about females' figures also were present. They even had access to passengers' gender, profile photo, age range and industry, if passengers had filled in such information.
"Didi's previous head of product led us to imagine Didi as a product which can break the stereotype of networking. If we used to hook up on Momo (Chinese Tinder), now we can meet strangers via Didi Hitch. The company's obsession with networking resulted in the safety concerns," said Huang Yeyunzi, founder of a feminist organization.
Didi removed the tagging and commenting function after the first murder. Profile photos were also not accessible to others. After the second murder, Huang was removed from her office perhaps because Didi finally realized that potential danger lies in its this core principle of social networking through ride-sharing. "People criticize Didi Hitch because they gave male drivers a message in their promotional activities that if you become a Hitch driver, you will have a chance to get laid," said Chen.
Although there are no such features in the re-launched version, female passengers may still be concerned because the Hitch service is ultimately a customer to customer service where safety matters most. Female passengers' attention to safety in carpooling has increased by 4% compared to that of 2016, according to Analysys' Report on China's Online Car-hailing Market (2019). The number of females choosing quality services such as Didi Premier or Luxe has increased 7% over the last year.
There are, of course, other service providers besides Didi, and some passengers are boycotting Didi by switching to other platforms. But as Didi occupies over 90% of the online car-hailing market, other options are quite limited. "These kind of giants are not afraid of losing a single passenger. And it's meaningless that individuals are fighting against Didi, when people all around us are using it," said Huang, "These internet giants need to be supervised."
Departments like the Ministry of Transport of the People's Republic of China (MOT) called a meeting with eight online car-hailing companies including Didi on Nov. 11 to ensure the safety and rights of passengers.
Update on Nov.13:
The bug about "more details" button was later fixed by Didi. The new page explains how the company would cooperate with the police to go through background checks on a regular basis. Other measures include ID check, facial recognition and safety education.
Sign up today for 5 free articles monthly!