Tencent Unveils Four-legged Robot Dog That Can Run, Jump and Do Backward Somersaults
A new four-legged robotic dog developed by Tencent's Robotics X Lab can walk, run, jump and even stand on its hind legs — just like a real dog.
Named Max, the robot dog is equipped with wheels on the joints of its legs, which allow it to change modes to jump or climb over obstacles, or cruise quickly over flat surfaces.
Videos released by Tencent on Tuesday show the robot dog hurdling over bars, prancing over obstacles on the ground and even doing a backward somersault. On a flat surface, it can travel up to 25kmh.
Relying on Tencent's self-developed software and hardware system framework, Max has a "keen nervous system" which can greatly reduce lag, the company said.
SEE ALSO: Over One-Third of the Global Industrial Robots Were Manufactured in China
Similar to its predecessor Jamoca, Max has a robust control algorithm, allowing it to achieve perfect balance, reaction and coordination. Inside Jamoca, there is a front-facing camera that allows it to accurately perceive its environment and achieve "robust eye and foot calibration".
Another clip shows Max flipping itself over after a fall, as well as picking up and receiving a red packet from a person.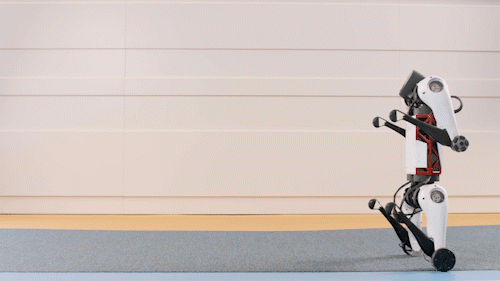 In the future, such robots are expected to play a role in patrol, security, rescue and other fields, Tencent said.
Tech giant Tencent established Robotics X in Shenzhen in 2018, an AI lab dedicated to working on autonomous characteristics of robots such as consciousness and judgement.
Sign up today for 5 free articles monthly!