Stay Patient, Stay Diverse: A Mobile Game's Road to Industry Legend
November 15, 2019, outside the Axiata Arena Stadium in Kuala Lumpur, Malaysia, young people from Indonesia, Vietnam and Malaysia, clad in their national flags, exchanged bro hugs with each other. Soon, however, they would clash in the stadium to determine who has the better gaming skills. The heroes of the game, just like them, would wear their national flags and compete for a championship in a 5-5 confrontation.
"Double Kill! Triple Kill! Maniac!" After neutralizing their main offensive threat, the Blue team swiftly eliminated the Red team's base. Within 8 minutes, EVOS from Indonesia defeated their opponent RRQ and won the first Mobile Legends Professional League (MPL) with a thrilling score of 4:3.
It was 2019, and it was the first world-class esports tournament held by Mobile Legends: Bang Bang. The peak viewership reached as high as 760,000. Made available for livestream on YouTube, the tournament was brought to players in 14 languages.
The moment EVOS won the MPL championship left a deep impression in Zikzira's mind, who has been playing the game for five years and achieved the highest rank of "Mythical Glory". He is also a well-known live-streamer of games in Brazil, with 225,000 fans on Youtube.
"Before Mobile Legends: Bang Bang, there wasn't a decent mobile MOBA in Brazil," Zikzira told Pandaily. MOBA stands for Multiplayer Online Battle Arena. The usual gameplay involves all players being divided into two teams, each player selecting their character with a specific set of skills, and then cooperating with each other to take down the enemy's base. With these traditional elements of a MOBA-style game, Mobile Legends: Bang Bang ups the stakes by involving a 10-player real-time strategy match-ups often lasting only 10 minutes, making it highly interactive and fast-paced.
Mobile Legends: Bang Bang was first released in Brazil in July 2016. Two months later, it was launched globally, and quickly gained surprising success most notably across Southeast Asia. In 2019, it was voted "The Most Favorite Game of the Year" in Indonesia. In the same year, the game made its way into one of the esports competitions at the Southeast Asian Games. Its rapid success in Southeast Asia mirrors the same "mobile MOBA shortage" that Zikzira experienced in Brazil before this game entered the local market.
As of July 2021, Mobile Legends: Bang Bang has reached 1 billion downloads, and the number of monthly active players has stabilized at over 100 million. Currently, it ranks among the top 10 best-selling games on App Stores in more than 120 countries. Similarly, on Google Play, the game has entered the top grossing chart and secured its top 10 place in more than 60 countries. As the name suggests, Mobile Legends: Bang Bang has indeed become a legend in the mobile game industry five years after its launch.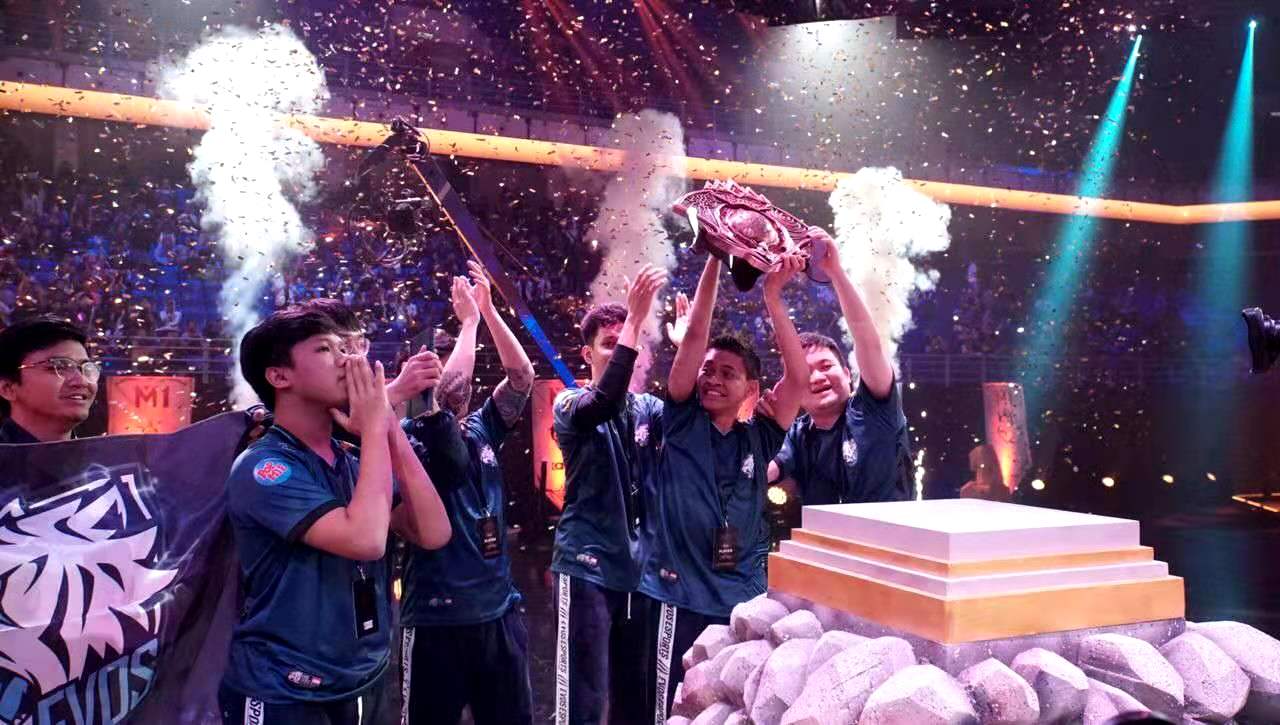 A "player-first" tradition
Based on player feedback and observation of the games being played, the Mobile Legends Team has made a lot of updates and optimizations to the game during the 5 years since its release. For many players, including the developers themselves, it is difficult to remember the original look of the game. "The other day a colleague pulled out an early screenshot of the game, and we were all stunned because the changes were so massive. We've really made a lot of improvements over the years", recalled Roger Yu, producer of Mobile Legends: Bang Bang.
In the first three months after the initial release, Mobile Legends: Bang Bang experienced more than a dozen iterations. At that time, the team only had about 30 people, and such frequent iterations relied on everyone looking for player feedback on the Internet and the constant study of players' needs. Today, the core team has grown to more than a thousand employees, with a dedicated team responsible for establishing contact with players and collecting feedback. Moonton, the company behind Mobile Legends: Bang Bang, has also set up branches in Indonesia and Singapore, where there are staff collecting feedback and passing it on to the R&D team in Shanghai.
Sometimes, the team would be inundated with feedback but not be able to promptly resolve each one. "At the very beginning, some of our developers would actually dismiss certain feedback because they as the artists had their own thoughts, and they wanted the players to accept the design. 'That's the way it is', they'd argue."
"But that's pretty arrogant", Roger continued, adding that they have later come to be more open with the players. "For those so-called 'designed-this-way' features, we will now tell our players when we are going to solve them, or explain why we designed them in the first place and why we cannot solve them at the time being."
Roger says this "player-first" tradition of Moonton has been maintained to the present. At the weekly product meeting, for example, the top-priority agenda is always a discussion concerning the previous week's player feedback. In the beginning, Roger set a 48-hour deadline for the team to respond to each piece of feedback, but now, Moonton aims at a response time within 4 hours.
Localization makes the difference
While the development process was relatively smooth, the company faced numerous challenges as they tried to open up a foreign market. Southeast Asia was where Mobile Legends: Bang Bang first made its name, and went global with the experience it gained from there. But when looking retrospectively at 2016, regions like Southeast Asia was still a no man's land yet to be explored for game developers. As one of the first movers in this region, Mobile Legends: Bang Bang performed well.
In as early as 2014, Newzoo had predicted the huge potential of the Southeast Asian game market. First, Southeast Asia had a population of 626 million, accounting for about 8.6% of the world's population, and a large number of them were tech-savvy young people. Meanwhile, Southeast Asia also had a rapid rate of urbanization (1.4% average annual growth compared to China's 0.5%). All these factors indicated a promising market for mobile gaming.
Unlike the history of gaming in developed countries like the United States and Japan, where hard-core games on PCs and consoles have been predominant for a long time until recently, Southeast Asia didn't have a fully-developed video game market. Local economic conditions had previously prevented people from buying high-end devices for gaming purposes. On the other hand, though, the smartphone penetration rate in Southeast Asia has been rising rapidly in recent years. A 2020 report by Indian marketing company InMobi describes Southeast Asia as a "mobile-first economy", with gaming being one of the top three consumption trends on mobile in the region.
Despite the huge potential, back in 2016, Southeast Asia was still fraught with difficulties for game developers. The unstable Internet connection, a complicated range of devices for the game to be adapted to, the impact of app package size on conversion rate, and an underdeveloped payment system — all were obstacles for game developers to overcome.
The principle was to make Mobile Legends: Bang Bang "run smoothly on the lowest-end devices", said Evin Weng, director of the game's publishing team. To tackle the problem of the inadequate Internet infrastructure and high mobile communication tariffs, the developers reduced the game's package size for players to download with the least amount of data. At the same time, the developers cooperated with local mobile operators to launch game packages to solve the problem of network tariffs.
Furthermore, the diversity in culture and consumption habits of the 11 countries in Southeast Asia has placed a higher requirement for game localization. At this point, Mobile Legends: Bang Bang's solution is to deepen their understanding of the culture of different countries and the game cognition of players, while cooperating with popular cultural opinion leaders (Link in Indonesian) to create heroes that speak to local players.
The challenge of localization is not limited to Southeast Asia, but exists in other developing regions too, such as Latin America and the Middle East, with each country having its own characteristics that need to be considered. For example, the localization of Mobile Legends: Bang Bang for Middle Eastern players is much more than linguistic translation. As Arabic is written from right to left, the developers had to reverse the entire user interface to meet the reading habits of Arabic-speaking players. This seemingly simple task took Roger and his team nearly half a year to complete.
In a 2020 study on digital gaming, German scholar Anne Marie Schleiner noted that not only young people in North America, but also those in peripheral areas such as Latin America or Southeast Asia, have the right to enjoy games. In developing countries, people have their own ways to deal with poverty and low-quality living conditions, while also enjoying the entertainment that the digital age brings. In this sense, Mobile Legends: Bang Bang, as one of the first game developers to enter the Southeast Asian market, has certainly played its part in providing such opportunities for local players by allowing "the lowest-end devices" to be able to access video games.
As a veteran Mobile Legends: Bang Bang player, the Brazilian game live-streamer Zikzira speaks highly of the game in terms of its effort in localization. "On a scale of 1 to 10, I would give Mobile Legends: Bang Bang a 10 for the localization it has done in Brazil", Zikzira said, giving an example of the new skin for the hero Pharsa featuring the traditional dancing costumes often seen at the Brazilian Carnival. "I think the most important thing for Brazilian players in a game is gameplay and framerate. The thing that sets Mobile Legends apart from other games is its smooth performance even on budget phones." This is due to Moonton's deployment of 800 servers in Latin America which solved 98% of their network problems.
As a game genre centering on competitiveness, MOBAs are by nature not as plot-driven as hard-core console games. And for Mobile Legends: Bang Bang, as a result of its meticulous localization, players can see heroes from different cultural backgrounds appearing on the same battlefield, such as Zhao Zilong from China and Gatotkaca from Indonesia. For those who are used to the plot-based worldview of console games, the 100-plus heroes of Mobile Legends: Bang Bang standing together may look like a confusing hodgepodge. But this precisely reflects one of the game's core values – diversity.
In an interview with Pandaily, producer Roger Yu admits that when heroes from different cultures stand together, it is unrealistic to create an all-encompassing story to bring them together, so Mobile Legends: Bang Bang chooses to pursue a more universal set of values, "such as avoiding hateful or violent things", while maintaining the cultural diversity of all game players. "We are pursuing a grand and inclusive worldview that welcomes all cultural elements."
NEXT
This highly inclusive continent just welcomed its fifth anniversary in September. As part of the celebration, which will last until mid-November, Mobile Legends: Bang Bang is rolling out a major update called Project NEXT. Players can expect richer visuals, as well as a wider selection of heroes and skins, including Johnson "Optimus Prime" and X-Borg "Bumblebee".
Producer Roger Yu added that in the future, Moonton will co-brand with more pop culture icons like Transformers and Star Wars. "These brands have spent a long time cultivating their IP value. It's very close to our philosophy." Meanwhile, Moonton's next branding initiative continues its "player-first" tradition, seeking more diverse brand partnerships, such as those in film, animation, technology, fashion, to meet the interests of players from different backgrounds.
"Game as a service" is a popular business model in the gaming industry. It allows games to be monetized after the initial release by providing continuous updates to the game and keeps players engaged. With the patience and meticulousness invested into Mobile Legends: Bang Bang's localization, Moonton has indeed turned the game into a "living game" that keeps evolving.
Still, as Roger Yu has put it in our interview with him, "Game as a service" is also a philosophy. It is about a game's respect for its players. "The game is essentially a creative work, not imagined by our designers, but based on the understanding of the players. In other words, the players participate in our creative process." In this regard, the pleasure and respect that Mobile Legends: Bang Bang brings to players as a game is probably more important than its commercial success.
Sign up today for 5 free articles monthly!