OPPO Shows Off Fast-Charging Tech and Flagship Products at MWC 2022
Chinese smartphone brand OPPO officially released its 240W and 150W SuperVooc fast-charging solutions and a new-generation 5G intelligent connection hub, the OPPO 5G CPE T2, at Mobile World Congress 2022 (MWC 2022) in Barcelona.
The 240W fast-charging tech can charge a 4,500mAh battery from 1% to 100% in just nine minutes. In terms of temperature control and heat dissipation, the 240W flash-charging device controls temperature to deliver a safe charging solution through the link of an adapter, wire and battery, which greatly reduces excessive heating and keeps the device cool.
Meanwhile, the 150W flash-charging tech can charge a 4500mAh battery from 1% to 50% in five minutes, and all the way up to 100% in 15 minutes.
According to OPPO, the 150W flash-charging solution is equipped with its self-developed Battery Health Engine (BHE), which helps the smartphone maintain 80% capacity after 1600 full charge cycles, so that the battery's lifespan can reach double the industry standard.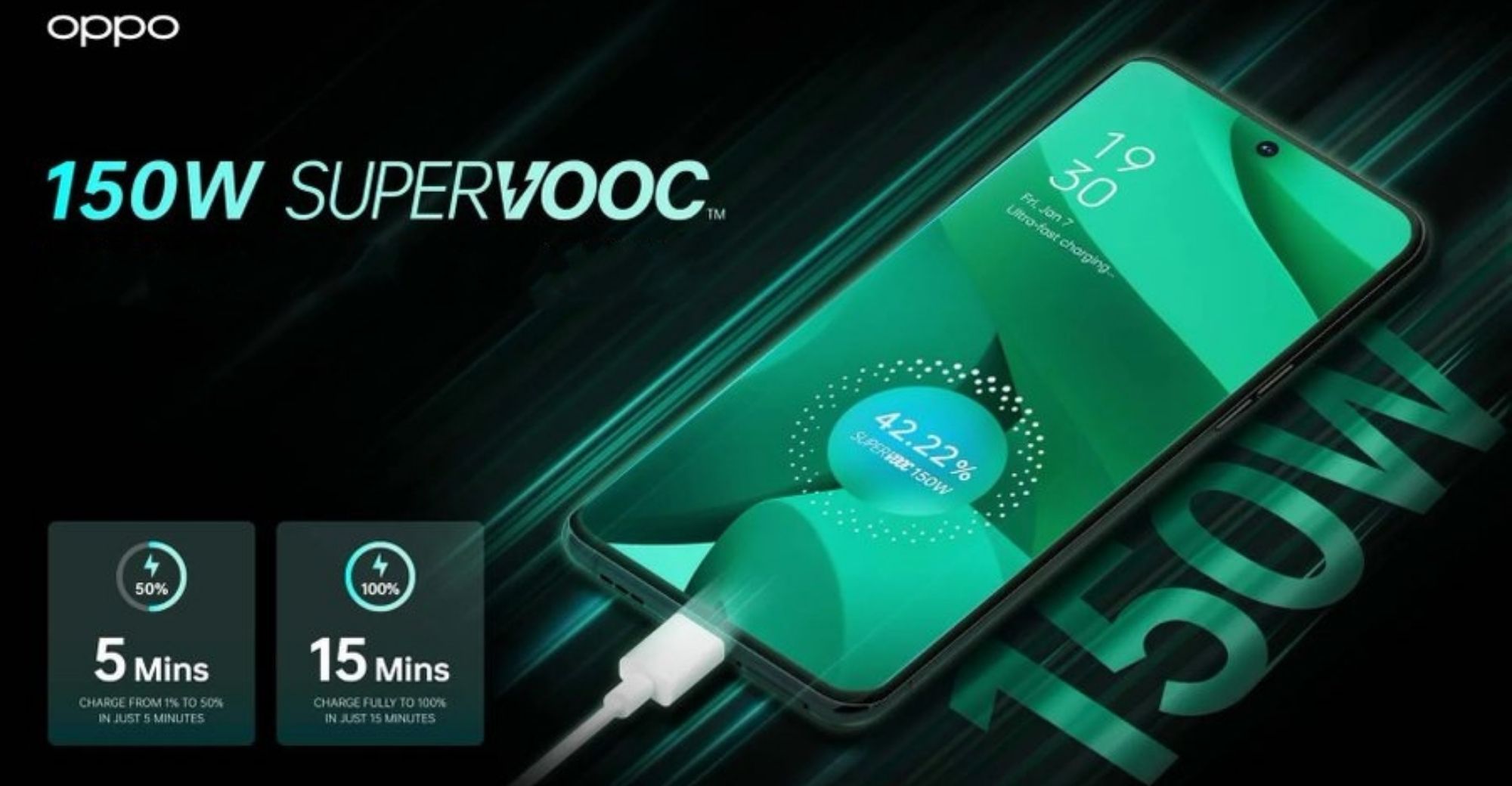 In order to ensure the safety of high-power charging, the 150W flash-charging tech is also equipped with 13 temperature sensors to monitor the charging status in real time to avoid any chances of overheating.
OPPO claims that in the future, the BHE will be used as the standard configuration for fast charging, and will be used in the flagship series of OPPO and OnePlus smartphones. The 150W SuperVooc flash charge with the BHE will launch on a OnePlus smartphone in the second quarter of 2022.
OPPO also displayed its latest flagship models such as the Find X5 series, Find N and its subsidiary brand OnePlus's 10 Pro, as well as a series of innovative technologies such as NPU Mariana MariSilicon X, OPPO Air Glass and a telescopic camera.
SEE ALSO: OPPO Launches Find X5 Series Powered by MariSilicon X Imaging NPU
At this year's MWC, OPPO also released a brand-new OPPO 5G CPE T2, which will enter the Asia Pacific, Middle East, Africa, Europe and other markets in the second half of 2022.
The OPPO CPE T2's pure white cylindrical body is crowned by a mobius band, representing the unlimited possibilities and connectivity brought about by CPE technology.
Meanwhile, the OPPO 5G CPE T2 features a Qualcomm Snapdragon X62 5G Modem-RF system, achieving over 20% increases in data transfer speeds versus the platform baseline. For the T2's antenna, OPPO has introduced its latest O-Reserve 2.0 smart antenna technology, which monitors signals received by eight antennas in real time, selecting four of these antennas based on the gain strength and signal quality to form a downlink route.
In addition to using fundamental heat dissipation components, the T2 takes advantage of the natural laws of convection via a central ring suction ventilator to improve heat dissipation while reducing the size of the heatsink. Further to this, the T2's integrated heatsink and antenna reflection board design improves both antenna performance and heat dissipation, while also helping to reduce the size and weight of the device by minimizing the internal space required.
Sign up today for 5 free articles monthly!