ImbaTV Partners With E-Sports Organizations to Launch Dota 2 Developmental League
China's e-sports organizations may have an easier way of seeking out new young talents now.
SEE ALSO: Dota 2 May Become Major Driver of E-Sports in China
ImbaTV, a Chinese e-sports streaming platform primarily centered around Dota 2, has announced that it will be forming a China Dota 2 Developmental League to cultivate new talents for e-sports teams. The platform will be teaming up with notable e-sports organizations including EHOME, Invictus Gaming, Keen Gaming, LGD Gaming, Newbee, Royal Never Give Up, and Vici Gaming to embark on this endeavor.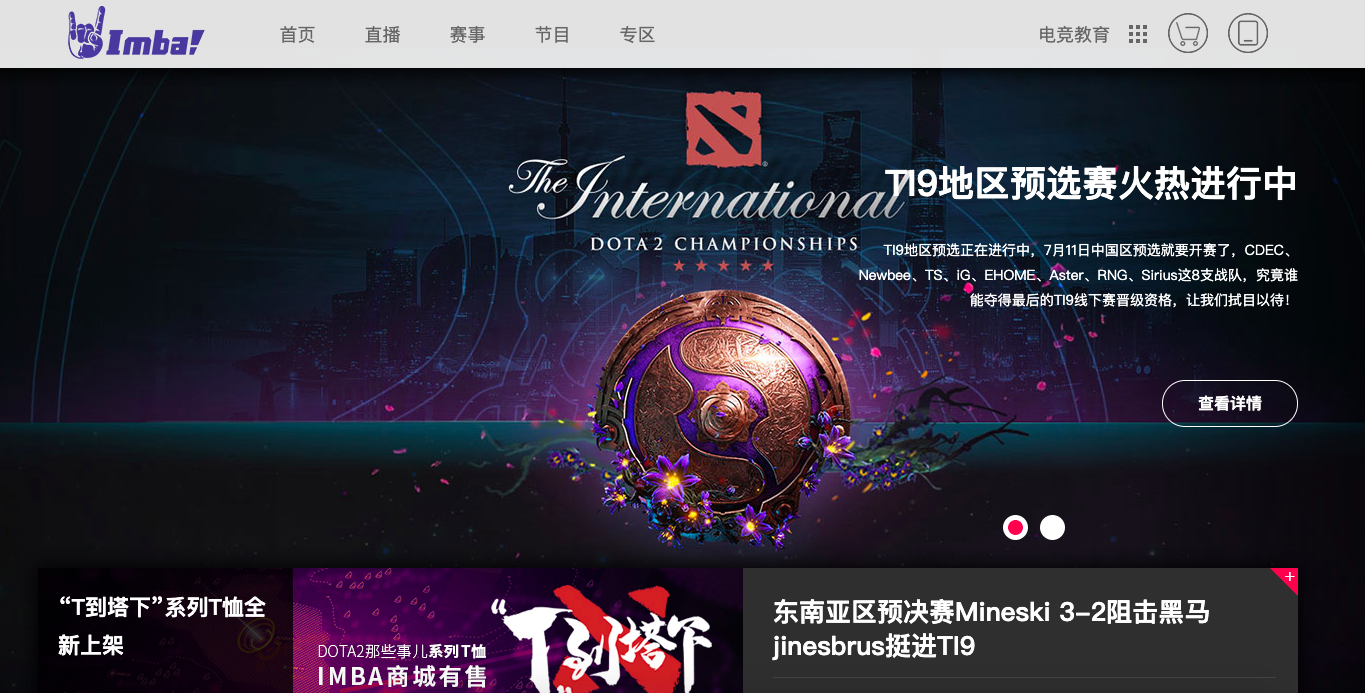 The new league will focus solely on promoting young players to join the e-sports scene in China. It will implement a strict set of age and qualification standards to cultivate young talents. This will stop teams from potentially using the developmental league as a way to keep veterans within their organizations as substitutes for their main rosters.
E-sports organizations in China are finding it increasingly difficult to discover new talents to add to their existing rosters due to fears of compromising roster stability. Most teams addressed the problem by creating secondary rosters that would compete in smaller events. However, this may all change with the addition of a developmental league, which provides a great chance to not only cultivate young talents but also provide organizations with better opportunities.
"We will severely crack down on unfair competitions such as player substitution, accounts swapping, and playing unverified games. Should a player violate any of the rules stipulated, the player will be prohibited from participating in any future events hosted by us," according to ImbaTV's press release.
"We are proud to have cultivated many famous Dota 2 players such as Fade, BoBoka, and XinQ," said ImbaTV founder Lingxiang Zhou. "We hope to create a good training atmosphere for Dota 2 by introducing a bigger and more standardized system of events. We look forward to the new generation of talents the emerging youth players will bring to the tables."
While the viewership may indeed be smaller for tournaments like this, organizations are constantly on the lookout for potential talents to recruit.
For the past few months, China has been facing a rise in demand for e-sport talents. Bloomberg reported last week that a Chinese ministry released a report warning that China will face a shortfall of 2 million e-sports professionals over the next five years. The Chinese government has been actively working to fill in the gap, starting with the addition of e-sports as an area of study for students at the Communications University of China.
According to Asia Times, a report from the Chinese Ministry of Human Resources and Social Security reveals that 86% of workers in the e-sports field earn up to three times the average salary in the country and less than 15% of job positions in the sector are filled, creating a demand for nearly 2 million workers in the coming five years.
The first official event will begin on July 16. ImbaTV said it will further optimize every aspect of the league once The International 2019 ends in August.
Sign up today for 5 free articles monthly!