GSX Fights Back As Citron Releases Part 3 of its Short Report
Well-known short seller Citron Research released Part 3 of its series report on Chinese EduTech Company GSX.com on the evening of May 7. In the report, Citron focused on the issue of business costs of GSX, claiming that the company's efficient operating efficiency was due to some transactions with undisclosed related parties.

In response, GSX.com issued a statement, claiming Citron's short report Part 3 is "full of false allegations." On the so-called "related party transactions", GSX replied that all related party transactions have been fully disclosed in the company's financial report.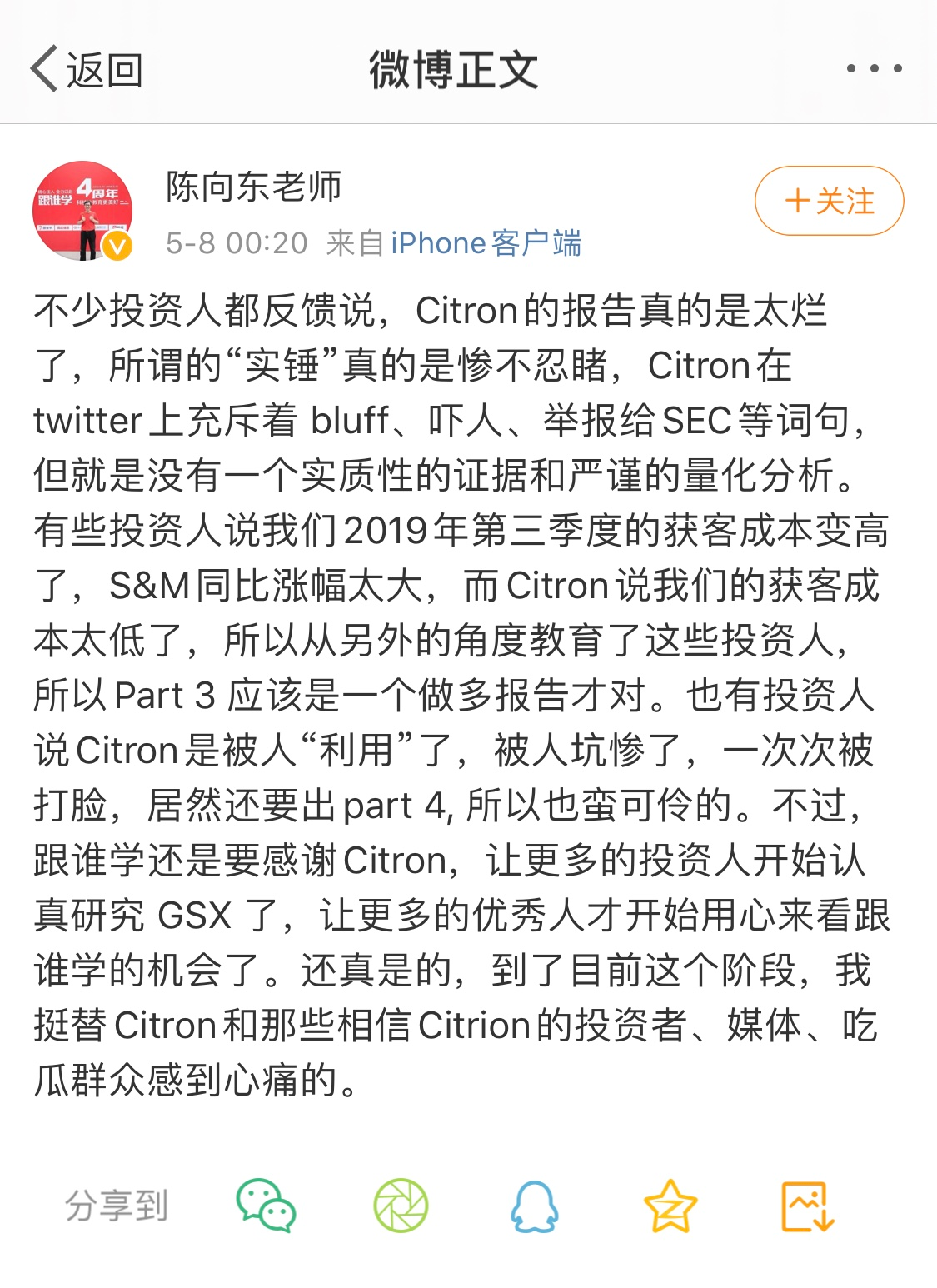 Subsequently, Chen Xiangdong, founder and CEO of GSX, responded on Weibo that "there was no evidence of a substantial and rigorous quantitative analysis in the Citron report." He added: "Some investors say that our customer acquisition costs increased in 2019 Q3, too big a year-on-year rise for S&M, while Citron said our customer acquisition cost is too low. So this actually educated our investors from an alternative aspect, therefore, Part 3 should be a long report."
Citron's accusation mainly includes several points: First, under the fierce competition in global online education, GSX claims that the acquisition cost of its customers is 50% lower than that of its peers; Second, in addition to the three undisclosed related parties previously discovered, Citron has discovered four related parties previously undisclosed, and believes that these entities are not only known to GSX and their management, but also actively engaged in activities to obtain customers only for GSX. Citron believes that these undisclosed related parties are just shell companies that GSX use to understate costs.

GSX Techedu Inc. (NYSE: GSX) is a technology-driven education company and a leading online K-12 large-class after-school tutoring service provider in China. The company had its US IPO in June 2019.
Sign up today for 5 free articles monthly!