From High School Dropout to Guinness World Record Holder: How Chinese Vlogger Li Ziqi Teaches Millions to "Live with the Earth"
Sewing a flowing purple maxi-dress dyed with grape skins, she tucked her long hair back and smiled at her playful lambs brushing against her skirt. Grabbing some dried plum for a snack, she went back to farming. Bird chirping like a song, willows dancing with the breeze, the beautiful country life is captured within a frame and seems so unreal on this bustling planet.
This is Li Ziqi, a Chinese vlogger who recently broke Guinness World Record for "most subscribers for a Chinese language channel on YouTube" with 14.1 million subscribers. The mysterious social media icon whose videos couple idyllic countryside life and traditional Chinese hand-crafting skills seldom speaks in interviews or appears on TV.
In her latest 19-minute video posted on Jan.9, she shows the audience how to make pickled radish and naturally-cured meat during China's Major Snow, the 21st solar terms of the traditional Chinese lunar calendar. As this article is being written, the video has already earned 7.7 million views within three weeks of its release.
Behind the Lenses: Who is Li Ziqi?
Born in 1990, the 31-year-old country-life vlogger now lives with her grandmother in southwest China, Sichuan. Nine years ago, Li decided to go back to her hometown from the big city and take care of her sick grandmother.

Li had a tough childhood. After her parents separated, she lived with her father, who passed away when she was six-year-old. When her grandmother found out her stepmother mistreated her, she took Li back to the countryside, where she learned to make handcrafts and authentic Chinese dishes from her grandfather. She was in fifth grade when he, too, passed away, and she dropped out of school, moving to a city in search of work.
Living in the city alone with 300 yuan ($47) a month as a waitress was not easy. In 2012, her grandmother suffered from a severe illness, so Li decided to go back to the countryside and opened an online apparel shop to sustain her life.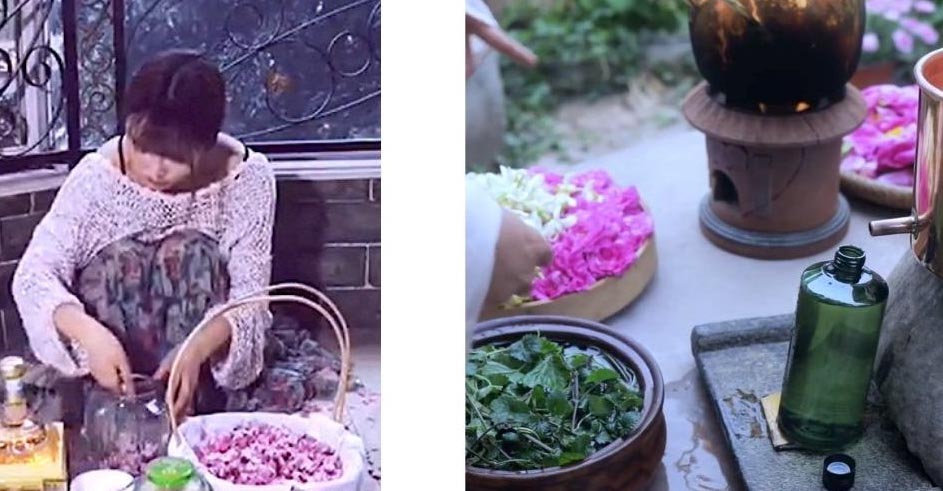 Inspired by her brother who uploaded guitar videos on a video-sharing platform Meipai, Li started to post short videos about her country life in 2015. In spring 2016, Li uploaded a video on making peach blossom wine and the video went viral a day later. With a mobile phone and video editing app, Li's legend began.
In 2017, she released her first YouTube video titled "Making a dress out of grape skins". As of now, it has 20 million views. Her tranquil, idyllic lifestyle has won millions of fans overseas.
The Controversy of Ziqi: Is China's Top Vlogger Romanticizing Rural Life?
With Li's popularity growing overseas, some critics questioned the authenticity of her real living situation and her unrealistic portrayal of China's rural life.

Professor Li Jinzhao from Beijing Foreign Studies University said in an interview with CGTN that such a romanticized portrait of China's rural areas is unrealistic, since no farmer would ride on a horse wearing a red cape to seek magnolia flowers in the forest.
The fairytale-like videos also whipped up a storm on social media where many argued that the entire story might be the work of a talent agency.

Whereas Li has now been joined by a videographer and an assistant, she still directs all her videos. "I've always been the director of my videos," Li said in a rare interview with Goldthread in 2019, "from what to film and how to film, to how each shot is framed. Usually, my videographer only knows what to film on the shooting day."
In 2019, Li uploaded a behind-the-scenes video showing how she shoots videos by herself and how she often got bruises by making everything from scratch. "I don't want to show my vulnerability and get sympathy online," said Li in Goldthread's interview.
Though it seems unlikely, skeptics have questioned whether she is a propaganda tool. "I simply want people in the city to know where their food comes from," said Li in Goldthread's interview. "Once a friend of mine who is a teacher told me her students thought rice grew from the trees, so I decided to make videos showing urban kids where their food comes from."

Many local media joked that Li's content is far better than propaganda. "Dozens of government departments with billions at their disposal have spent a decade figuring out how to promote Chinese culture, but they have done a worse job than a vlogger," wrote South China Morning Post's journalist Chauncey Jung, summarizing a tweet from journalist Jasper Jia.
Why Li is Popular Overseas and Is Her Success Replicable?
On the other hand, many showed great support. In a New York Times article, author Tejal Rao wrote "In isolation, the D.I.Y. fantasy world of the Chinese YouTube star is a dreamy escape, and a lesson in self-reliance."

With classical Chinese music playing in the background and little conversations in the video, Li's work has therapeutic power. A Youtube user commented Li's videos, saying "This girl is inspiring millions to return to their roots and live with the earth." And another comment, which garnered the most likes, reads: "She is the strongest woman that I have ever seen, with multiple skills ranging from engineering, landscaping to cooking."
The YouTuber works at a unique slow-pace, with a single video taking a month and sometimes a year to produce. Conversations – a rare occurrence – are in Sichuan dialect and earlier videos do not have English subtitles

"Through these elaborate productions, the vlogger, overcoming language barriers and bridging cultural gaps, allows more people to understand the beautiful and profound meanings of Chinese culture, " said Guinness.

Many wonder whether this success is replicable, but Li's ability to start from scratch may prove hard to match. As a Youtube user commented, "She brings a whole new meaning to the sentence 'from scratch'."

If she wanted duck eggs, she would probably spend a year to hatch duck eggs.
Another possible reason for her popularity is that Li's videos always give viewers a detached and ethereal feeling. "Li never does the preaching in her videos on what we should do to live in tranquility as she simply passed on her joy and cinematic shots of countryside lifestyle," argued Professor Li from Beijing Foreign Studies University in an interview with CGTN.
"It is quite prevalent for youth living the city life. They get really sick of [the city], so the countryside – or a fantasy of it – looks increasingly like the ideal image of what a good life should be," said Linda Qian, an Oxford University Ph.D. candidate. "We've gotten to a certain point of materialism and consumption, where there's only so much you can buy, so we go back to what humans can do."
SEE ALSO: Why Does Li Ziqi Outperform Most Chinese Vloggers on YouTube?
In the age of hustle, we rarely have a moment to slow down and observe the world around us. Despite the mystery surrounding Li's personal story, her videos remind urbanites to "live with the earth."
Sign up today for 5 free articles monthly!