Chinese Swimmer Sun Yang Banned 8 Years For Doping Violation
Three-time Olympic gold medalist swimmer Sun Yang will be banned from the sport for eight years. Earlier on Friday, the Court of Arbitration for Sports (CAS) decided on Sun Yang's high-profile case for allegations related to refusing to take a doping test, and destroying a sample.
The hearing was scheduled after the World Anti-Doping Agency filed an appeal to an earlier verdict from the world swimming governing body FINA, which cleared Sun's wrongdoings on the test that sparked controversy in September of 2018. The issue involved was an allegation involving a security guard, at the direction of Sun Yang's mother, destroying Sun Yang's blood sample to prevent WADA officials from conducting the doping inspection.
SEE ALSO: China's Anti-doping Work Has Never Ended
Sun Yang had won two gold medals in the 2012 London Olympics in the men's 400m and 1500m freestyle events. In 2016, Sun claimed another gold medal in Rio de Janeiro in the men's 200m freestyle. The eight-year-ban will cause Sun Yang to miss the 2020 Olympics in Tokyo, and the 2024 Olympics in Paris.
According to reports from CNN, the eight years is the maximum penalty that the Court of Arbitration for Sports can hand out. This is Sun's second offense on doping charges. The 28-year-old Hangzhou native was guilty of doping in 2014 and served a three-month suspension.
"The World Anti-Doping Agency (WADA) welcomes the ruling of the Court of Arbitration for Sport (CAS) in relation to WADA's appeal against the Fédération Internationale de Natation (FINA) disciplinary panel decision in relation to an incident that led to a doping control involving Chinese swimmer Sun Yang not being completed as planned."
The World Anti-Doping Agency said in a statement: "WADA had lodged the appeal on the basis that Sun Yang voluntarily refused to submit to sample collection as per the terms of the World Anti-Doping Code (Code) and the related International Standard for Testing and Investigations. WADA notes the sanction handed down by CAS and is satisfied that justice, in this case, has been rendered."
Sun Yang said that he felt shocked and angry, while unable to comprehend the verdict, posting to his Weibo, which boasts more than 33.5 million followers, "I just finished training, and I always believe in my own innocence. Receiving the verdict from the Court of Arbitration for Sport, I felt shocked, angry, and cannot understand this!"
Sun has asked his lawyers to appeal the decision. Following the verdict from CAS, Sun will have 30 days to appeal the decision. It seems like Sun will not wait until the deadline to file his appeal. Sun concluded his statement by showing his appreciation to the Chinese government officials and fans: "I would like to thank everyone's support and help. I would like to thank the General Administration of Sport of China, the Chinese Swimming Association, and all Chinese officials for their concerns and care. Thank you to all sports supporters in and outside of China. I will fight for my legal rights until the end."
Sun later posted a picture of his own hand-written statement with signatures from the visiting WADA personnel and a 95-second-long video showing his interactions with WADA officials. In Sun's defense of the case earlier, Sun claimed that some of the WADA personnel did not show their credentials at the time of the doping test.
Sun's doping allegations received more media attention following several hostile exchanges between Sun and several swimmers around the 2019 World Aquatic Championships in Gwangju, South Korea. Australian swimmer Mack Horton called Sun a "drug cheat". Horton finished second after Sun in the 400m freestyle race in South Korea. Horton refused to share the podium with Sun in the medal ceremony. Mack Horton challenged Sun Yang's legitimacy to participate in international competitions because of the doping allegations. The feud between Horton and Sun expanded outside of the swimming pool. Earlier in 2020, Mack Horton's high school decided not to show his name to not offend the Chinese. Caulfield Grammar, the private school that Mack Horton went, decided to not name its new aquatic center after the Olympian. According to Fox Sports, the school has a campus in China and has a sizable amount of students on one of its campuses.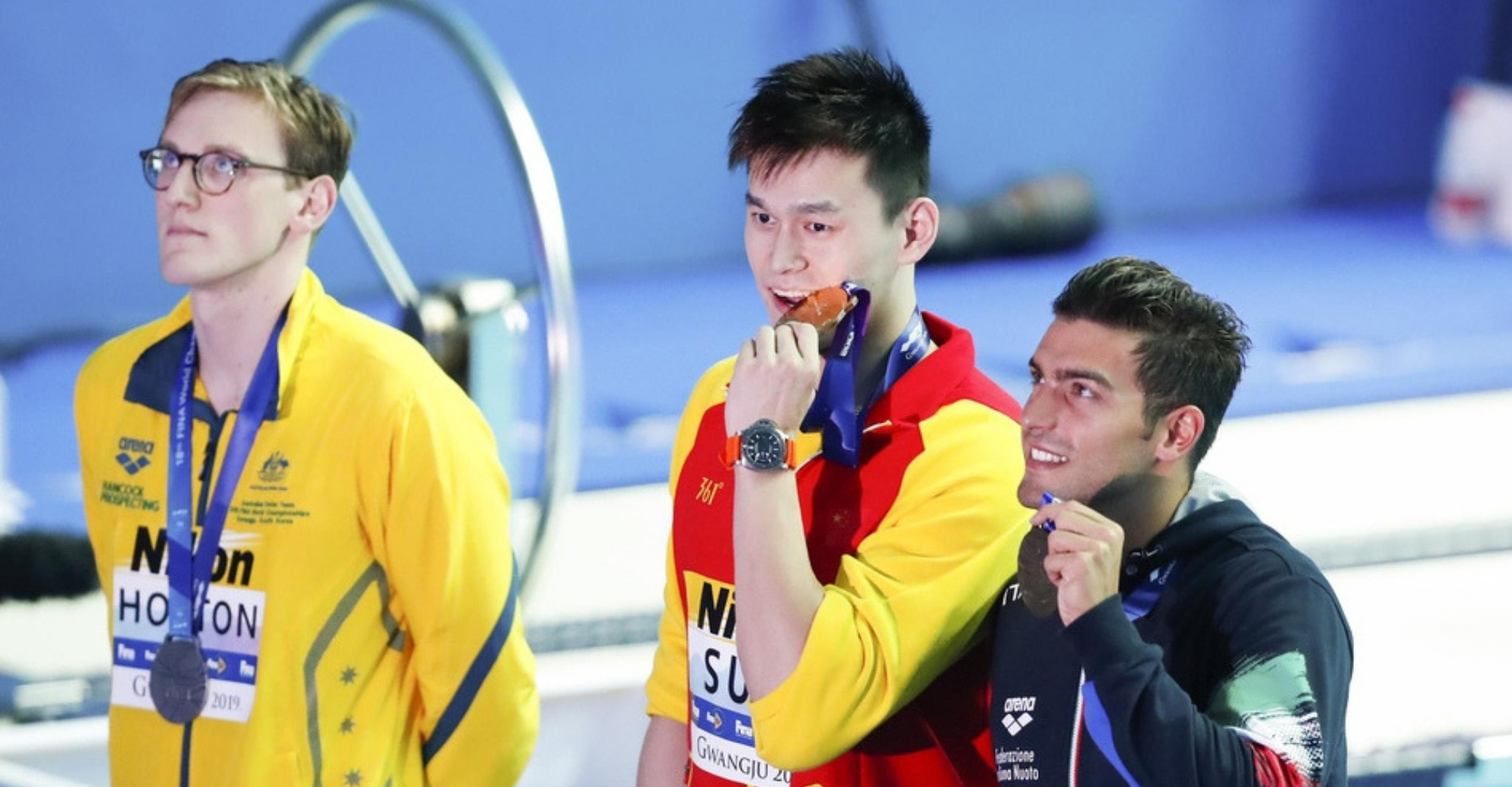 In 2016, French swimmer Camille Lacourt said in media interviews that Sun Yang "pisses purple", referring to his tarnished doping record.
Following Horton's personal boycott against Sun Yang, a similar incident occurred a few days later. British swimmer Duncan Scott, the 200m freestyle bronze medalist in the World Championships, refused to shake hands or pose for photos with Sun Yang. Sun was visibly shouting at Scott on the podium and after the ceremony, Sun Yang said to Duncan Scott, "You are a loser. I am a winner."
Mack Horton's coach Jacco Verhaeren said that the Australian swimmer will not be distracted by the outcome of the verdict. Duncan Scott reacted following the verdict result, saying that he fully respects and supports the decision, in a statement, "I fully respect and support the decision that has been made and announced by the Court of Arbitration for Sport this morning. I believe in clean sport and a level playing field for all athletes and I trust in CAS and WADA to uphold these values."
Sign up today for 5 free articles monthly!