China's Sharing Economy Matured When It Seemed to Be Wilting
Agile and astute, Du, a freelance translator in his mid-twenties feels at home in Beijing's narrow traditional alleys called hutong. He effortlessly circumvents hordes of gawking sightseers, dodges advances from pesky peddlers and disappears in a doorway of a pharmacy. "I need to return something," he utters hastily. The gangly freelancer that usually goes by Datu (short for Datugou, lit. big provincial dog) makes his way to an unremarkable honeycomb-like container at the back of the store and inserts a power bank that was charging his phone into one of the vacant slots.

Datu owns several portable chargers, but all of them ultimately end up collecting dust on a bookshelf. For a lot of Chinese young people like him ownership is losing ground to sharing. Charging a power bank requires time, carrying it around involves a fair amount of inconvenience. Datu and droves of other Chinese are happy to opt out of that cycle thanks to the wave of sharables that swept over the country.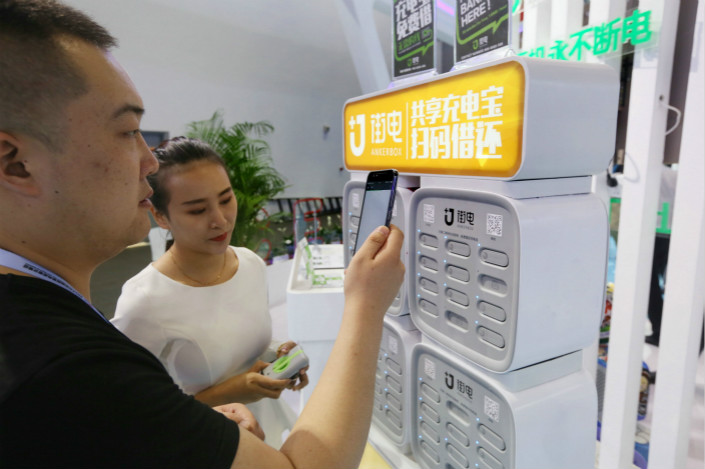 In China leaving home empty-handed is the new normal. With just a smartphone in a pocket an average person here can get by perfectly, and that does not only refer to shopping. A smartphone can get you a bike, a car, an umbrella and a power bank – all of them shared.

Be it for cultural or historical reasons (but more likely for technological), the Chinese are more eager to share than their western counterparts. Only 43% of Americans are open to sharing, while in China that figure shoots up to 94% as per some estimates. No wonder in 2018, every second technology unicorn in the Middle Kingdom had its roots deep in the fertile sharing economy soil, according to the State Information Center.

Surprisingly, within the past couple of years some of the most promising start-ups in the industry – like the dockless bike-sharing pioneer ofo or car-sharing company Togo – went bust, planting the seed of doubt in the minds of investors. The Chinese market is engulfed by bubble-phobia, and the sharing economy bubble seems to have already burst, inflicting some casualties and quietly reshuffling the whole industry, while also forcing it to mature.

Datu's phone screen looks fairly simple now. He gets cabs and bikes through Didi, orders take out through Meituan, borrows power banks though a JieDian mini-program in WeChat and rents out the unoccupied room in his apartment through Airbnb and a slew of similar Chinese platforms. The cutthroat competition emblematic of the industry has subsided. Yet, to get the skinny of this newly found equilibrium, we would need to take a bird's-eye-view of the whole landscape.
All quiet on the sharing front
While waving goodbye to ofo and a bevy of smaller sharing enterprises was disheartening, it proved fair at least one trite motivational cliché – what doesn't kill us, makes us stronger. Bike-sharing is going strong under Didi and Meituan, complementing their data-dependent ecosystems. Car-sharing is instrumental in helping the government put more electric vehicles on the streets, with two biggest players left being EVCARD under SAIC – one of the biggest Chinese state-owned OEMs – and Gofun, small EV sharing subsidiary of the state-owned car-rental and taxi firm Beijing Shouqi Group.

Power bank lenders have managed to carve out a sustainable future for themselves, too. As of the first half of 2019, the cumulative number of JieDian users has reached 107 million with the company's revenue last year exceeding 800 million yuan, and their operating profit reaching 37 million yuan. iiMedia Research predict that the number of shared power bank users in China will break the 300 million mark in 2019 reaching 400 million in 2020.
The companies are gaining more confidence. And it is not the hollow arrogant confidence of the early wave of sharing startups, but a deserved one. During the previous several turbulent years, sharing-dependent companies like Meituan-Dianping and Didi Chuxing accumulated oodles of user data and operational experience. Ordinary people became more savvy and accustomed to sharing, and the government, that initially had little idea of how to go about the new fad, is finally implementing viable and consistent regulations.
Quest for profits
One sign of maturity is soaring prices. Bike operators doubled their rates early this year to little public surprise. Power bank vendors recently did the same lifting the usage fees from 1-2 yuan per hour to 3-4 yuan. Even umbrellas now go for as much as 3 yuan per hour. The case is simple, having reached scale targets, it is time to work towards profits.

Back in the day, the same strategy was adopted by ride-hailing and food-delivery businesses. The vendors were offering extremely cheap services up until they had accumullated considerable user bases allowing them to raise prices and finally make a profit off the customers who were too dependent on their products to abandon them over shallow monetary concerns.

The power banks are especially interesting here. While for bike-sharing businesses with high operating costs raising prices and narrowing losses was vital, there was no urgency in replicating that model in the world of inexpensive portable chargers.

An insider from one of the power bank sharing companies told the Chinese tech media 36Kr that their business has already evolved to a relatively mature stage, revealing a clear way to profitability. Increased prices will allow the companies to seize more market share, consolidate and enhance their own industry positions.
Progress is made by lazy people
Sharing skeptics are always eager to point out how futile it is. Buying a bike or a power bank will undoubtedly be cheaper in the long run, so why would people choose to spend more on something they do not get to own?

The answer is embarrassingly obvious. Owning a bike is a pain. It easily gets stolen, it needs storage room or a designated parking spot and you cannot carry it on the subway (at least not in China). Toting a portable charger is a chore in and off itself, too. You could lose it, and what on earth do you do when it runs out of charge or when you do not need it anymore. Datu for one prefers to keep his pockets light, knowing that he could find a shared charger virtually anywhere in the city.

As it has happened many times before, pundits overestimated consumers' pragmatism and severely underestimated their laziness. Sharing is one big manifesto to the development of internet technologies allowing people to solve virtually any routine problem with a smartphone. After all, as one Chinese commentator pointed out, at a time when people give up their physical wallets and apartment keys, how could anyone expect them to carry a power bank?

Young people are at the forefront of the ongoing sharing revolution. They are more mobile, price sensitive, tech savvy and thus more willing to use low-frequency goods communally, saving money and a lot of extra effort. Not to mention the proliferation of mobile payments in China has made the cyberspace a perfect place for all kinds of transactions and has created innumerable entrepreneurial opportunities.
From pest to need
While pricing changes and consumer sentiments might be somewhat crude and unreliable indicators of maturity, one certain sign is shifting decision-making rationale. Companies are no longer littering the cities with their sharables hoping that at least a dozen of a bunch will get used, they are bent on getting consumers hooked on their products.

On one hand, bike-sharing companies are reducing their fleets, but on the other, they are rigorously adopting AI and Big Data to help them identify the spots with the highest demand for their two-wheelers and the exact time when a batch needs to be dispatched there for utmost efficiency. Thus, although Beijing's streets are now relieved of the bike excess issue, finding wheels might be easier than ever, they are always where you need them – near the subway, near work, near a mall.

China's sharing economy is not about acquiring more users anymore, it is all about persuading the old ones to use the products more frequently. And the approach has been paying off. Roughly a year ago Meituan's bike-sharing service had a brief malfunction preventing users from getting bicycles. As a result, thousands of Meituan customers immediately went on Weibo to confront Meituan and complain that they were late for work or important meetings because of the lag. This situation illustrates perfectly how reliant Chinese people are on sharing now.

Shared power bank operators follow a similar model, installing their receptacles in supermarkets, restaurants, theaters, hotel lobbies, karaoke bars, hospitals, and anywhere else people could be looking for them. Data from iiMedia Research shows that the main reasons why merchants cooperate with power bank providers in the first half of 2019 were the shared profits and severe competition. Today, having a power bank repository for a Chinese merchant is akin to having free WiFi – everyone else has it, so they need to keep pace.

As for car sharing, the industry has been staying lowkey after the unfortunate collapse of Togo. It is a hard business with high acquisition and maintenance costs. Yet, the companies left in the market now have serious state-affiliated backers, and if they play their cards right, that could lend them a lot of opportunities in the foreseeable future. Beijing sees shared-mobility – including taxis, ride-hailing and car-sharing – as a frontier for expanding its EV ambitions, reducing pollution and road traffic. Towards this end authorities implement stringent regulations that sometimes do not leave people a choice but to use shared transport.

"I've been waiting for my license plate for years now, and I don't want an EV, I want an internal-combustion car nowadays. God knows when I will finally get it," said a Beijing-based white-collar surnamed Gu.
Sharing is caring
The biggest selling point of sharing is that it brings value not only to the companies, but to the society as well. Bike and car-sharing are unloading the roads and benefiting the environment. Home-sharing, while snatching revenues from the hospitality industry and in some instances resulting in soaring rent rates, is a great societal equalizer, allowing some people to travel cheaply and others to earn decent supplementary income.

Sharing creates affordable infrastructure for start-ups through co-working spaces and for food and beverage businesses by allowing them to share a massive fleet of delivery guys instead of owning one. Even power bank sharing has its societal upsides, ridding people of the fear that they could be left without a functioning phone – a real disaster, especially in a smartphone dependent Chinese environment.

It is hard to imagine that a generation of Chinese youth growing up on sharing could ever backtrack to buying. Datu, the translator from Beijing, can pick up and drop off a power bank wherever he wishes, he can bike to work from the subway, without worrying about smuggling the bicycle on the train, he can drive a car to Ikea, and order a car with a driver to reply to work emails on the way back, and he can rent out the empty room in his apartment on weekdays only to have his friends stay over on the weekends. The freedom that comes with sharing is addictive, and this might be one of the few addictions worth yielding to.
Sign up today for 5 free articles monthly!