BYD's 2022 Passenger Car Shipments Hit One Million
According to a post by automotive industry blogger "Xiaodi Express" on September 6, the one millionth passenger car of BYD so far in 2022 has officially been shipped, and company founder Wang Chuanfu celebrated this achievement with employees on the scene.
According to the August report released by BYD, its sales volume of new energy vehicles in the month was 174,915 units, compared with 61,409 units in the same period last year. In the first eight months, the cumulative sales volume of new energy vehicles was 983,844 units, up 164.03% year-on-year.
As also disclosed in the financial report, BYD achieved revenue of 150.607 billion yuan ($21.7 billion) in the first half of 2022, a year-on-year increase of 65.71%. Its gross profit during the same period was 20.341 billion, a year-on-year increase of 75.35%, while net profit attributed to the parent company reached 3.595 billion, a year-on-year increase of 206.35%.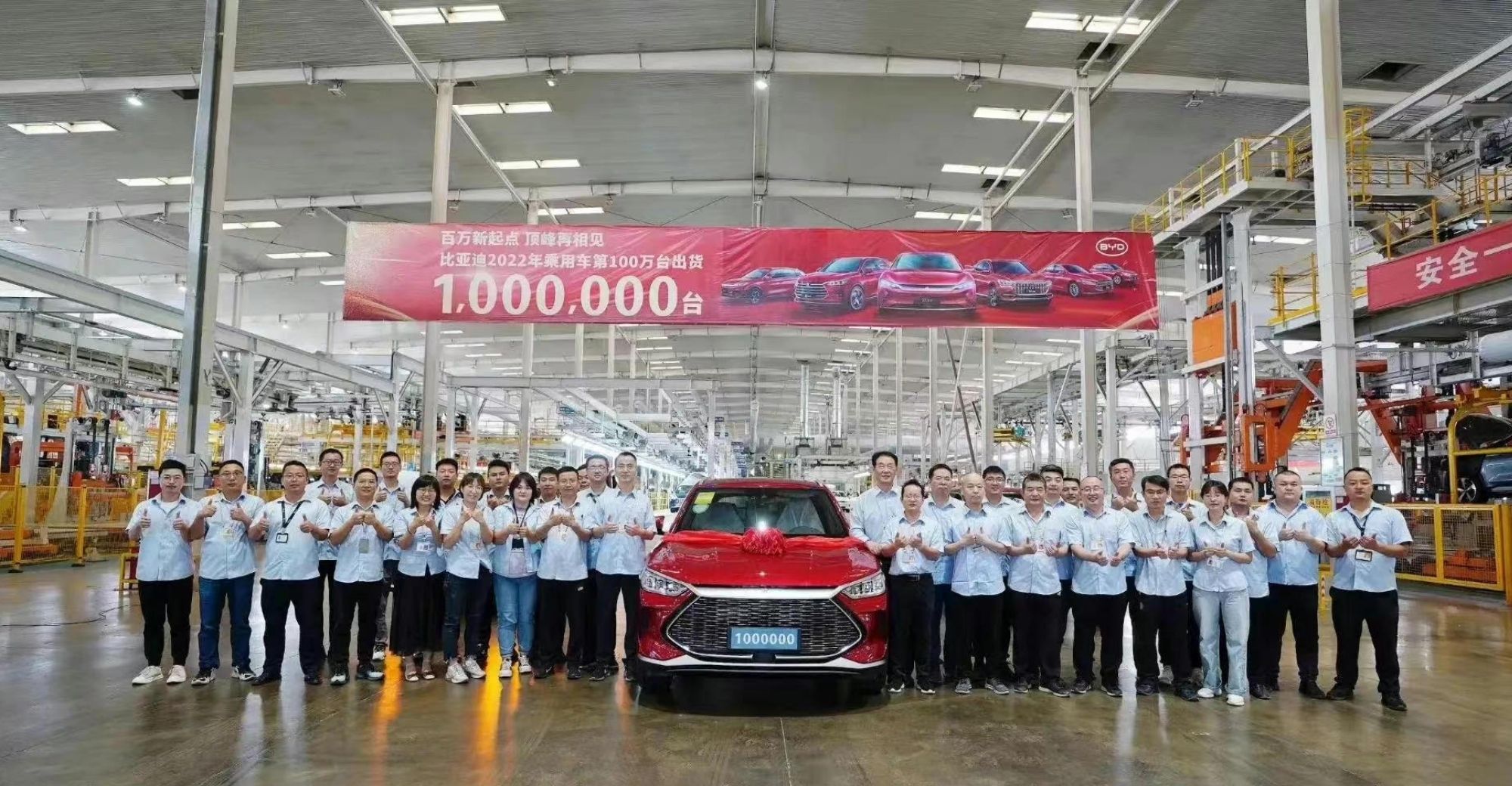 Wang Chuanfu previously revealed that BYD currently has 700,000 orders in hand, and the delivery cycle for new cars is 4-5 months. The EV maker will strive for a monthly delivery of 280,000 units before the end of the year.
However, BYD's Seal model, which has just been put into mass production, has only delivered more than 1,000 units, due to the impacts of tight pandemic control measures and power supply issues in China this year. It is expected that the delivery volume will be greatly improved after two months of recovery.
In terms of market development expectations, Wang believes that the sales volume of new energy vehicles in China is estimated to reach 9-10 million units in 2023, while BYD plans to deliver over 4 million vehicles, and even more batteries and electric control semiconductors for motors. In terms of battery supply, the main production capacity will be supplied internally in 2023, and the proportion of batteries for external customers will increase significantly in 2024.
SEE ALSO: BYD Denies Plan to Raise Price of Dynasty and Ocean Series Cars Again
Data released on September 5 by SNE Research, a South Korean market research institution, showed that in July 2022, the installed global capacity of electric vehicle batteries reached 39.7 GWh, an increase of 82.6% year-on-year. BYD won second place from LG Energy Solution for the third time, in addition to in April and May.
Sign up today for 5 free articles monthly!