Arena of Valor Enjoys Skyrocketing Popularity Like its Chinese Counterpart Honour of Kings
The Arena of Valor (AoV) World Cup 2019 grand finals will kick off on Sunday, where a new world champion will be crowned. The event, which began on June 27 for the group stages, was hosted in Vietnam by Tencent and Garena and featured a $500,000 prize pool.
The multiplayer online battle arena (MOBA) AoV is an international adaptation of Honor of Kings (HoK) developed and published by Tencent Games for iOS, Android and Nintendo Switch, for markets outside mainland China. As of May, it has amassed a monstrous daily active user (DAU) count of over 13 million.
SEE ALSO: Honor of Kings Becomes Most Profitable Mobile Game Globally in the First Half of 2019
It's fair to say that AoV is likely to become the next king of mobile games after the previous most popular title Player's Unknown Battleground (PUBG).
Soaring popularity
According to market analyst Sensor Tower, mobile games earned $29.6 billion across both platforms, up 11.3 percent from the same period last year. HoK made the most money, bringing in $728 million and not including the revenue from China's third-party Android stores. Additional figures have also indicated that game downloads have also soared to a high of 20.1 billion during the first half of 2019, up 3.2 percent from the same period in 2018.
Rounding up the stats, AoV came in second on the rankings list for consumer spending, right behind Fate/Grand Order. These games were in the exact same spots for consumer spending in the first quarter of 2019, showing that players are still very willing to spend money on micro transactions within them.
The game was also selected last year by the Olympic Council of Asia (OCA) and the Asian Electronic Sports Federation (AESF) for the 2018 Asian Olympic Games in Jakarta. Following its successful conclusion, it has also been confirmed as an official game title of the 2019 Southeast Asian Games in the Philippines, according to Tencent Esports business director Hou Miao at the "UP 2019 Tencent NEO Culture Creativity Conference."
Localization beyond just an English version
But how has AoV become such a viral mobile title both in and out of China? AoV's massive popularity across the U.S. and Europe can mainly be attributed to the ample localizations Tencent added to cater to the Western audience.
AoV's art style and character designs mostly included heroes or mythical creatures with European and American features. Instead of embracing a more traditional Chinese style of clothing, characters generally appear more technologically advanced, beastly, or superhero-like while radiating an aura of justice around them. And instead of including popular characters from SNK's King of Fighters such as Shiranui Mai, which is definitely a popular choice among players across Asia, Tencent opted for characters more well known in the West such as DC Universe's Superman, Batman, and Wonder Woman.
Tencent didn't just borrow a few trademark elements from these characters to put into the game, but brought them to life by imbuing them with their respective skills, appearance, and voices so Western audiences could get a chance to dominate the battlefield with their favourite DC heroes. Batman, who fights primarily with his fists, is able to conceal himself in the dark just like the original DC character setting. Superman on the other hand, is adept at flying around and quickly engaging the opposition by raining down justice with his fists.
To enrich AoV even more, Tencent also retained Chinese elements in the game by including popular characters based off of Chinese history and stories. The inclusion not only promoted Chinese culture, but also provided a sense of cultural inclusion for Chinese players living abroad. The fictional character Monkey King (Sun Wukong), imperial Chinese warlord Lu Bu and legendary Chinese beauty Diaochan are great examples that come to mind instantly.
Tencent also made targeted localizations to address specific markets. For the Indonesian market, Tencent has opted to include fictional Indonesian hero Wiro Sableng as one of the characters in AoV. It took months for the collaborators, including Lifelike Pictures, Caravan Studio, Tencent Timi Studio, Garena Indonesia and others, to complete the addition of Wiro Sableng, according to a statement on the official AoV website.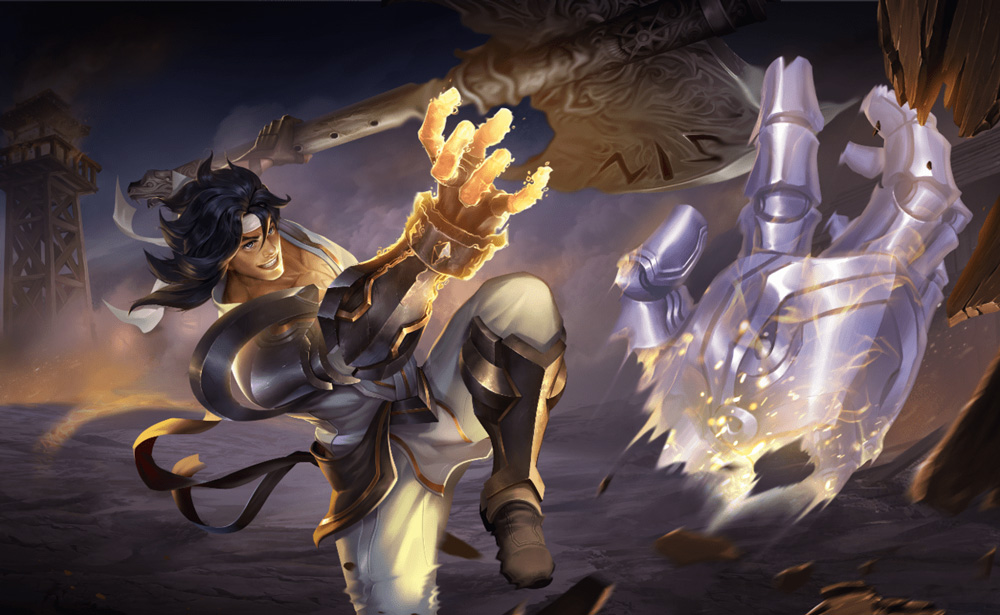 This is wildly different from other mobile games that may have failed to garner popularity outside of China such as NetEase's Onmyoji series, which received mild ratings on Steam. For the most part, Onmyoji just had an English translation and no other localizations done to it, which may have contributed to it being poorly received outside of China.
Right place at the right time
Mobile games in China have definitely seen a drastic rise in popularity following the release of HoK near the end of 2015. It was a time of ballooning smartphone sales and deflating console sales for Chinese consumers. Popular console manufacturers such as Sony, Microsoft, and Nintendo were unable to secure a solid share in the Chinese market, even with the gaming licensing bans imposed by the Chinese government for the most part of 2018.
These harsh conditions for developing games have although hurt game makers outside of China, they made for an ideal breeding ground for domestic companies such as Tencent to promote its games. Since the Chinese government had put a freeze on licenses for new games, Tencent was losing out almost $150 billion in market value. But the freeze did not affect already licensed titles like AoV. Tencent took the chance to further optimize the game for Western players. As of September 2018, the game has grossed over $140 million outside China.
SEE ALSO: Chinese Dota 2: A Game of Nostalgia and Belief
Although Apple has announced at this year's WWDC that it will be rolling out its Apple Arcade service to bring exclusive games to Apple users, it may take more than just a membership subscription for the company to become a major player in the mobile gaming industry. Tencent, on the other hand, has since the release of HoK in 2015, established a deep foothold in the global market of mobile games. By rolling out HoK in China domestically and its counterpart AoV outside of China, it's able to have a big slice of the pie everywhere. Adding on to the already popular PUBG, which Tencent has exclusive rights to distribute, Tencent is sitting comfortably above other players in the industry.
Sign up today for 5 free articles monthly!