2020 TOP 10 Chinese E-commerce Platforms Overseas
China may offer fertile soil for e-commerce businesses, but plenty of Chinese e-commerce giants are looking for new opportunities expanding overseas, too. According to Statista, China's online retail market will reach $1.7 trillion in 2020 and global retail e-commerce sales are set to reach $4.13 trillion in 2020.
With the epidemic shifting the global economy, e-commerce businesses saw a surge in online shopping volume this year as people become ever more tech-savvy. To make but one example, around 40% of people in the U.S. stated that they have been buying more goods online as a result of the pandemic, according to Forrester data.
Based on authoritative data sources like Google Trends and Pandaily's exclusive database Pandata, we narrowed it down to the ten most outstanding Chinese e-commerce platforms overseas. The evaluation criteria weigh on a firm's search statistics, global markets penetration rate, milestone events in 2020, and the numbers of foreign users.
How do Chinese e-commerce platforms fare overseas? What are some unique business insights behind their expansion? Let's take a look at the top 10 most popular Chinese e-commerce platforms globally and understand their specificities.
(The following firms are listed in alphabetical order.)
AliExpress
Owned by Chinese e-commerce giant Alibaba Group, AliExpress is one of the top cross-border online B2C eCommerce marketplaces in the world. Launched in 2010, the platform was created as an offshoot of Alibaba.com and enables consumers from around the world to buy directly from manufacturers and distributors in China. AliExpress is available in 17 other languages and consumers. Top global consumer markets are Russia, the United States, Brazil, Spain, and France. AliExpress' Russia branch has been an essential part of AliExpress' business.
In 2020, Alibaba's international commerce retail business's revenue was 24,323 million yuan ($3,435 million) with an increase of 24% compared to last year's 19,558 million yuan. The increase was primarily due to an increase in revenue from AliExpress, according to Alibaba 2020 annual report.
However, changes in laws and policy could negatively affect export-focused businesses on AliExpress. In November, the Indian government banned the AliExpress APP due to its concern over data security.
AliExpress is embracing innovative digitalization as it brings live-streaming sales overseas. During this year's Double 11 Festival (Nov.11), the highest conversion rate from live-streaming was 300%, according to AliExpress, proof that the interactive approach surely engages the audience. Alibaba now has 180 million active users overseas, according to Alibaba's 2020 annual report.
As opposed to Alibaba.com, sellers on AliExpress are mostly not manufacturers themselves, but third-party individuals that serve as middlemen, buying products from factories in large volumes and selling them to retailers on AliExpress. (But buyers still get a competitive price for the goods.)
AliExpress merchants pay a commission of typically 5% to 8% of the transaction value, according to the report.
Banggood
Launched in 2006, Banggood (BG) is a leading Chinese online retailer that focuses on B2C cross-border exports. The company's widely available supply chain has laid a solid foundation for selling goods to 168 countries all over the world. North America and Europe are BG's main markets. Headquartered in Guangzhou, BG has about 37 overseas warehouses covering different locations, while its partnerships with professional international shipping companies have enabled BG to distribute effectively.
In October, BG launched a livestream program on BG's app and website. According to BG's blog, the livestream function aims to attract influencers to promote BG's products. These influencers can showcase the products on livestreams and increase sales. BG claims that they will help influencers grow the number of followers and earn revenue from the sales.
For this year's Double 11 shopping festival, BG offered a total of $1,000,000 coupons to consumers to save on shopping. The company's top-value brands like Xiaomi, Blitzwolf, DJI have up to 70%-off discounts.
Club Factory
Club Factory has built an integrated supply chain from manufacturers to consumers for cross-border e-commerce. Created by Jiayun Data Technology, a Chinese company, in 2014, the retailer uses a proprietary AI-algorithm and knowledge graphs to compare prices from multiple manufacturers, according to Club Factory.
The company has entered markets in India, Europe, United States, Southeast Asia, and the Middle East, with India leading the pack. The company has three warehouses in the country and has partnered with local logistics companies to assist with deliveries. Club Factory has become a major player with 100 million monthly active users and about 40,000 local sellers in 2020, according to the South China Morning Post.
"Global players like Amazon and Flipkart are great examples to learn and operate in the e-commerce space. Our strength is in selling unique, modern, and trendy products at the best price. We will continue with our strategy of empowering local sellers to help us in meeting with increased demand," said the Club Factory' spokesperson in an interview.
However, in June 2020, the Indian government banned Club Factory along with 58 other Chinese apps citing concerns over data and privacy issues and 90 % of the local employees were asked to take a leave without pay. Subsequently, 80% of locals quit their jobs according to the South China Morning Post. The Club Factory website appears to be out of service at the time of writing.
DHgate
DHgate.com is a Chinese business-to-business (B2B) cross-border e-commerce platform. Unlike other Chinese e-commerce firms overseas, DHgate mainly sells manufactured products from suppliers to small retailers. Founded in Beijing in 2004, DHgate serves more than 31 million cumulative registered buyers, covering 222 countries and regions and connects them to over 2.2 million suppliers globally, with over 32 million products listed on its website. Partnerships with American Express, DHL, FedEx, MasterCard, Visa, UPS, DHgate ensures safe and efficient delivery
To support businesses' needs and further enhance user experience, DHgate actively boosts its warehouse business and offer swift, smooth, and safe logistic service, to provide full-suite end-to-end logistics services for merchants, import customs clearance and last-mile delivery. Assisted by more than 10 overseas warehouses located in Europe and north America, both suppliers and buyers from over 100 countries and regions are benefited from logistics cost reduction and a 3-day delivery service pledge.
GearBest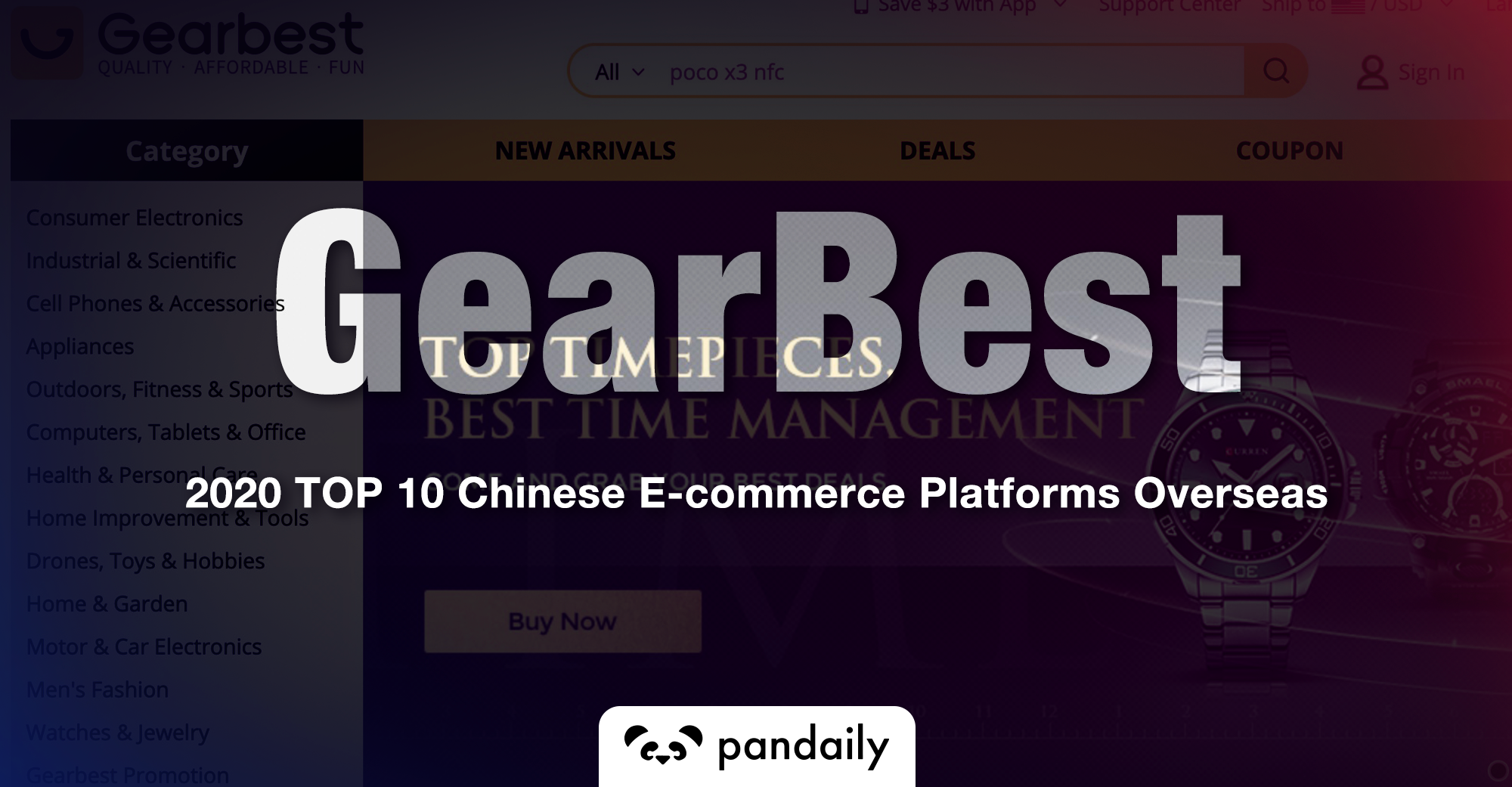 Gearbest is a cross-border platform that mainly sells electronics and high-tech products to a global audience. Owned by Chinese e-commerce platform Globalgrow, Gearbest is backed by abundant resources. The company works closely with over 5,000 famous Chinese brands and top suppliers, including over 1,000 top brands like Xiaomi, Lenovo, Huawei.
Gearbest has got over 1 million SKUs online with over 1,000 new arrivals every day, providing diverse kinds of products shipped from 46 warehouses worldwide, which greatly reduces the delivery time and provides better after-sales services for global consumers. To ensure the quality of the products, suppliers must go through a rigorous rating system.
On June 11, Gearbest opened a pre-selling registration of the Xiaomi Mi Band 5 on its platform, which triggered great interest from its global audience.
Recently, the firm opened a product warehouse in Europe, where they deliver orders within five days, without consumers paying customs duties for selective goods.
Jollychic
Founded in 2012 by entrepreneur Aaron Li Haiyan, Jollychic, the Chinese cross-border e-commerce start-up has become one of the top players in the Middle East market. After analyzing over 50 overseas markets, Ms. Li found the region especially appealing in terms of potential, so she made plans to replicate China's competitive e-commerce ecosystem there. In August 2019, Jollychic secured $65 million from United Arab Emirates' tech giant G42 Group in a series C+ funding round.
Currently, Jollychic said it plans to use the funds to expand the size of its market, improve logistics, and develop a third-party payment program. The funding will also help the company further strengthen its localization efforts.
According to Dennis Du, the vice president of Jollychic, the firm aims to increase the output value of the Saudi digital sector to 80% by 2020. "By 2020, the company plans to construct warehouses with more than 1 million square meters, with a capacity of storing 100 million pieces of commodities and processing 800 million pieces in a year," said JollyChic's CEO Li Haiyan.
LightInTheBox
China-based LightInTheBox is a cross-border e-commerce platform that delivers products directly to consumers around the world. The Company offers customers a convenient way to shop for a wide selection of products at attractive prices. Their website comes in 25 major languages and covers more than 140 countries globally.
LightInTheBox saw great improvements in its recent fiscal performance. According to the firm's recently released 2020 fiscal report, total revenue was $113.9 million in the second quarter of 2020, nearly doubling its second quarter 2019 performance. At the same time, the firm achieved a net income of $8.5 million in comparison with $0.7 million net income in the preceding quarter and a net loss of $7.3 million in the same period of last year. LightInTheBox reported in December that its revenue nearly doubled in the last quarter. As a result, LightInTheBox shares gained 1.8% pre-bell after the company reported improved Q3 financial results, according to Seeking Alpha.
The outstanding fiscal results mainly rely on the firm's decision to make urgent medical supplies globally available in March to fight the COVID-19 pandemic. LightInTheBox is leveraging its strong relationships with suppliers across China to secure considerable stocks of medical face masks, safety goggles, hand sanitizers and ship such supplies globally.
ROMWE
Despite its ban in India, ROMWE continues to spread its footprint across the e-commerce market. "Be Fun, Be Unique, Be ROMWE;" the firm is the go-to place for unique clothes, fun accessories, home decoration items at affordable prices.
Founded in 2010, ROMWE targets young people who are after the latest fashion trends. The firm established a "ROMWE Creators Program," partnering with emerging designers to produce creative products. By featuring these merging designers' work on its platform, the firm hopes to provide young designers with a stage to showcase their work and inspire both talented artists and newfound fans around the world.
In March, Klarna, the leading global alternative payments provider and shopping service, teamed up with ROMWE. This ideal cooperation allows ROMWE to continue to provide trendy pieces that consumers desire while Klarna provides a smooth checkout experience, as consumers can pay in four equal payments without interest attached.
SHEIN
With trendy designs, rock-bottom prices, fashionable influencers, SHEIN, a Chinese fast-fashion retailer, is winning American teenagers' hearts. Founded in Nanjing in 2018, the company is encroaching on the territory of well-known fashion brands like Zara and H&M. It has become the largest multinational fashion retailer in the world measured by sales of self-branded products, according to Euromonitor.
In September, the SHEIN app had 10.3 million downloads globally, according to Sensor Tower data. In comparison, H&M had 2.5 million and Zara had 2 million downloads. In the week Sep. 27- Oct. 3, SHEIN was the most downloaded shopping app globally on iPhones, according to analytics platform App Annie.
Aiming at Gen Z – a particularly social media-savvy demographic – SHEIN had 16.1 million followers on Instagram by mid-December, where it is advertised by influencers wearing the latest fashion styles. The brand owns physical stores and ships to more than 200 regions in the world, primarily Europe, America, Australia, and the Middle East. It has backing from investors including IDG Capital and Sequoia Capital China, according to PitchBook capital market data.
Recently, the company has been opening its platform to many outside high-end fashion brands to sell their products and SHEIN will provide transportation for these businesses. Outside brands like JAZZEVAR, ADYCE, Simplee, Glamaker, AMII, and Missord all have higher price ranges from $15 to $100. According to Jiemian News, SHEIN has built an upgraded supply chain after its expansion. Now it owns more than 300 clothing suppliers and over 100 accessory suppliers.
In September, they held their first virtual fashion show named #WalkYourWonderful, starring Ellie Goulding, Rita Ora, Stefflon Don, and SHY'M, plus over 100 influencers globally. The retailer is constantly promoting body positivity on its social media platforms.
Zaful
Founded in 2014, ZAFUL offers fast-fashion merchandise to a global audience. Ranked 23rd among the top 50 China export manufacturers by BrandZ, ZAFUL has been selling products to over 180 nations.
With a 50% increase in sales comparing to last year, ZAFUL has been trying to attract young people with various interactive events. On February 14, ZAFUL partnered with On|Off to showcase their products at the London Fashion Runway Show. The collaboration provided an immersive visual experience for viewers.
In June, ZAFUL invited celebrities on its live broadcast platform to promote self-branded goods. The webcasts' content varies across several fields, including photography, music, yoga, dance, etc. Celebrities are able to introduce ZAFUL products to fans around the world with their unique characteristics. ZAFUL also works with a short video platform in Singapore called Likee to produce theme videos featuring its offer.
Sign up today for 5 free articles monthly!