Xiaomi Removes In-box Charger with Upcoming Mi 11
Xiaomi's CEO Jun Lei officially disclosed the packaging of the Xiaomi Mi 11 Saturday and announced on Weibo the phone will not come with a charger in the box.
The photo Lei posted on Weibo showed the Xiaomi Mi 11's packaging box is lighter and thinner. He said the removal of the charger is intended as an effort towards environmental protection.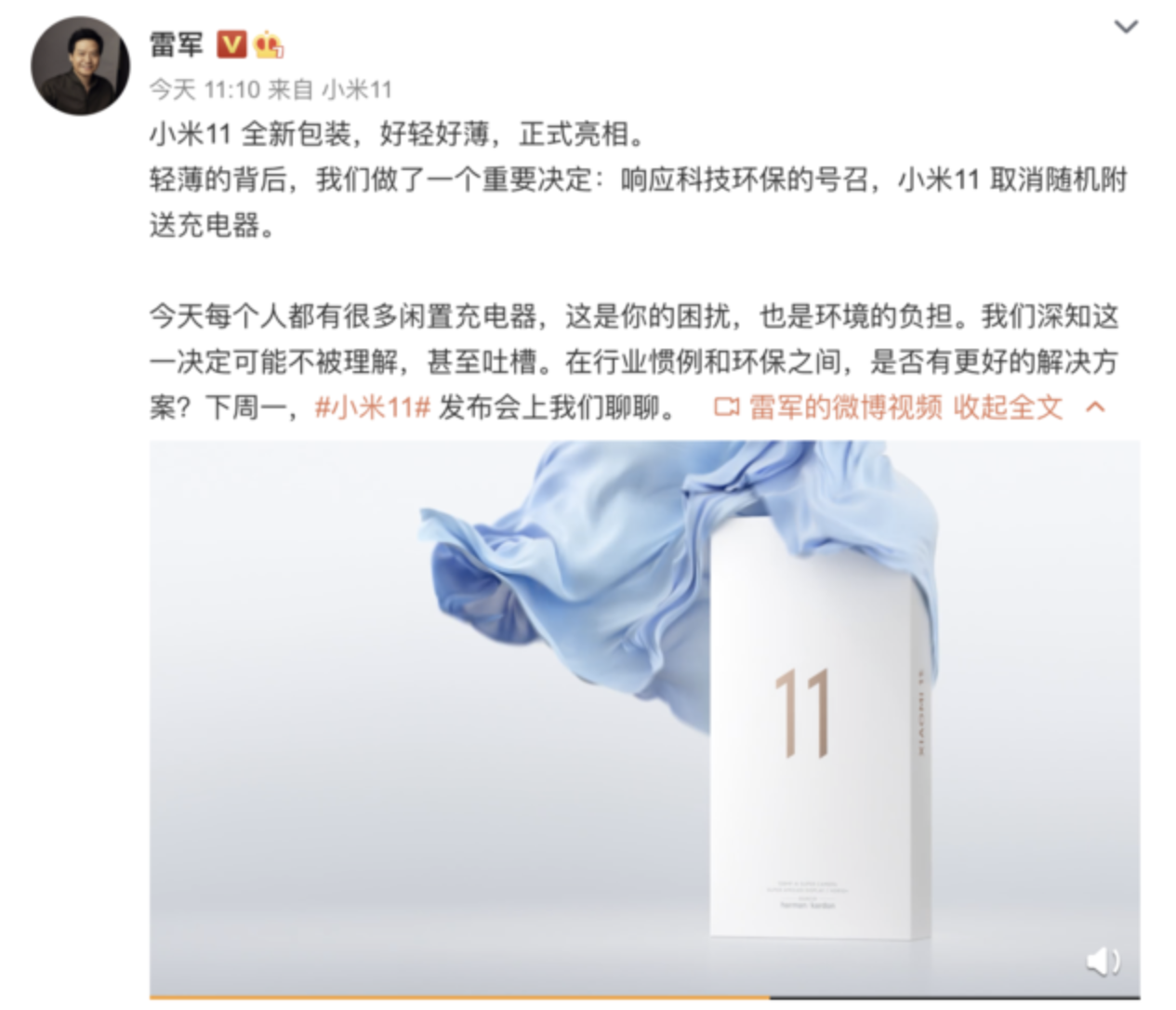 He also said nowadays, everyone has a lot of idle phone chargers, which are unnecessary and a burden on the environment. Despite inevitable misunderstandings and complaints, Xiaomi still made the decision.
When Xiaomi's Redmi Note 7 was released, the company provided customers with an option to buy an 18W fast charger for only 10 yuan. It's reasonable to guess that paying a small amount for the charger could be Xiaomi's solution to align with both the industry's practices and environmental protection. Xiaomi will provide customers with an official answer at its press conference Monday evening.
It is worth mentioning that some of the selling points of Xiaomi's Mi 11 are also printed on the Mi 11 packaging box. In addition to a 100-megapixel camera and a Super AMOLED screen that supports HDR10+, the Mi 11 speakers have also passed the Harman Kardon certification, promising an impressive setup of Xiaomi Mi 11's sound performance.
How the Xiaomi Mi 11 is priced will also affect consumers' attitudes on the decision to cancel the in-box charger. If the price is lower than expected, then the removal of the charger is acceptable to some extent.
SEE ALSO: Xiaomi Confirms December 28 for Mi 11 Series Launch Date
In addition, Xiaomi has been entering the higher-end smartphone market this year, and its flagship price can't be too low. The Xiaomi Mi 10 series has set a new high for Xiaomi products in terms of specs and prices. The upcoming Mi 11 series should be no exception.
Xiaomi isn't the first to remove the charger out of environmental concerns. This year, Apple fans found out that the latest iPhone 12 series didn't come with an in-box charger. After the iPhone 12 series, it has been confirmed that Samsung's new Galaxy lineup, namely the Galaxy S21, S21+ and S21 Ultra, will also remove its in-box chargers.
Sign up today for 5 free articles monthly!