Huawei Responds to Reports of Smart Watch Measuring a Sausage's Heart Rate
As the COVID-19 virus can lead to lung infections that reduce blood oxygen content, the measurement of blood oxygen saturation can serve as a key early warning sign for severe cases. Due to a large-scale shortage of home-use oximeters, many Chinese consumers are now considering smart watches or electronic bracelets with blood oxygen monitoring functions. However, one Chinese web user posted that they had put Huawei's smart watch product on a ham sausage, and it actually showed blood oxygen saturation data.
SEE ALSO: Demand for Oximeters Surges in China as Firms Expand Production Capacity
One web user mocked, "Doesn't this show that the ham you bought is fresh?", while another commented, "It perhaps indicates that the pig in the ham can still be rescued."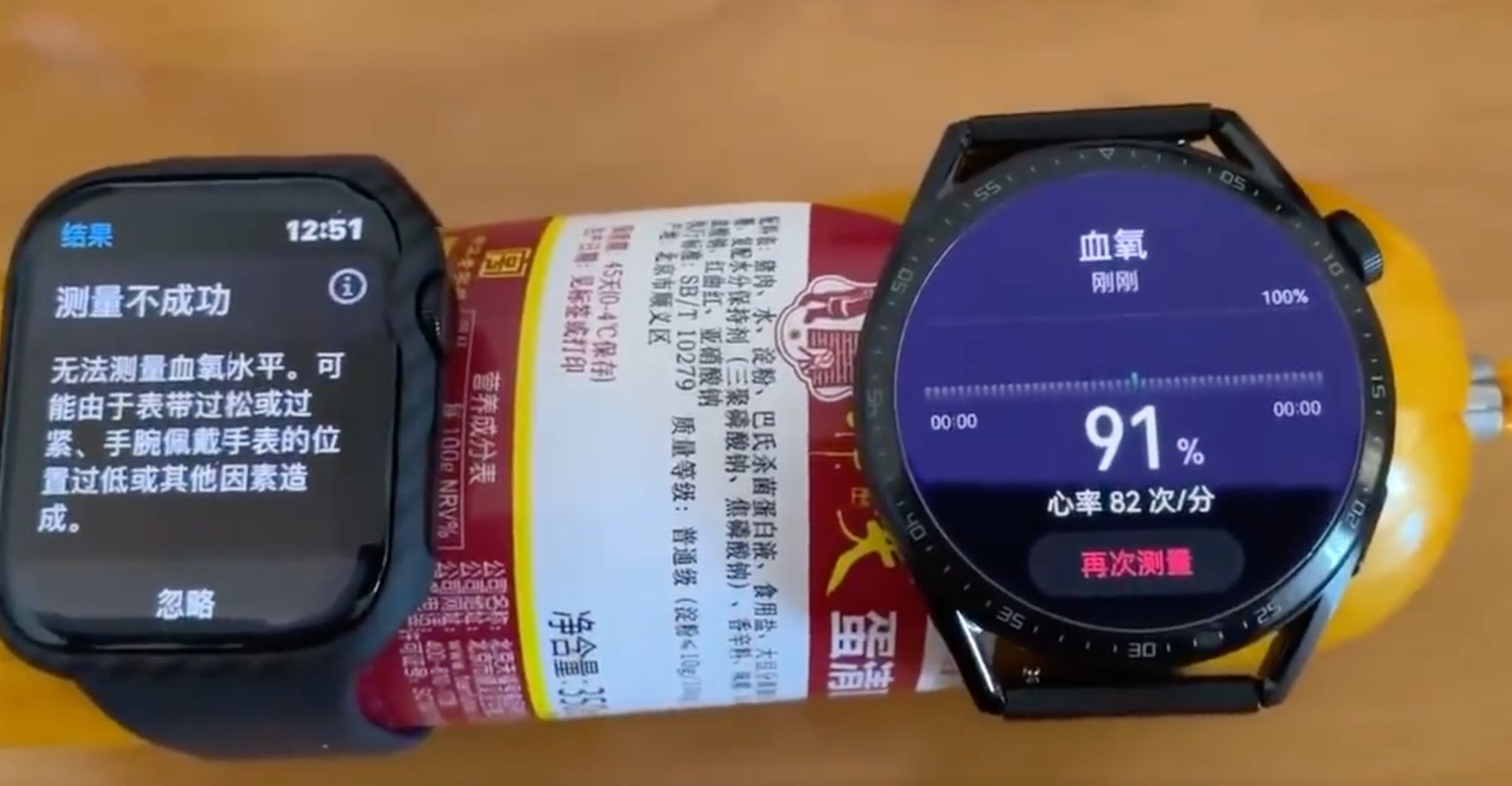 As the topic spread online, other Chinese web users took out their Huawei smart wearable equipment and tested blood oxygen levels and heart rates of various objects. One put a Huawei Watch 3 Pro on a carton of ibuprofen granules, and got a result of 100 heart rate and 97% blood oxygen. Some used a Huawei smart bracelet to test a pack of paper towels, and successfully measured that their heart rate was 68 and the blood oxygen content was 100%.
Regarding the matter, a staff member at Huawei Consumer Service Hotline responded to Chinese media outlets, stating that the company's smart wearable devices adopt optical sensors to measure blood oxygen based on optical signal fluctuations. If the watch is placed on a container, fruit or towel, it may be misjudged as a human body signal with a very small probability, and a meaningless blood oxygen value will be obtained. To solve this problem, the company will continue to optimize its algorithms and improve accuracy.
According to a report by Jiemian News, the head of a Tmall digital device store revealed that the sales volume of smart watches and bracelets in the store has increased by 300% to 400% compared with last month, especially those products with budget prices and blood oxygen detection functions. Recently, customers have come to inquire about and purchase products every day.
The data monitored by smart watches cannot be regarded as rigorous medical evidence. In some cases, there could be many interfering factors that distract the products.
When people use smart watches to detect blood oxygen saturation, there is sometimes a big gap between the measurement results and an oximeter. "If a user's blood oxygen is only 93%, but it is measured by the smart watch that they have 95%. The error seems to be only 2%, but the user actually needs to go to the hospital. If they rely entirely on this data, they may miss important diagnosis and treatment opportunities."
Therefore, many brands, including Huawei, also have made it clear on the product introduction page that the smart wearable devices are not medical devices, and the data generated can only be used as reference, not for diagnostic and medical purposes. Actual tests should be based on professional medical devices.
Sign up today for 5 free articles monthly!