A Braided Solution: Chinese Grads Tackle Smog, Provide Shelter for Stray Cats
Five years have passed since Chinese television journalist Chai Jing put out her viral documentary "Under the Dome", which revealed the serious air pollution problem that has been haunting the nation for decades.
Consisting of contaminants such as PM2.5, PM10, SO2, O3 and NO2, air pollution in China, similar to other industrial countries, is caused by automobile exhaust and coal-fired industries, affecting citizens' skin and mucous membranes and even leading to respiratory, lung and cardiovascular diseases.
Among all the causes of air pollution is wheat straw burning, which is typically seen in suburban areas in China, where agriculture is the oldest and one of the most important economic sectors.
Ziren Zhou, a fresh graduate from Hunan University, found a way to reduce wheat burning and lift the smog problem through WHECAT, a brand which he co-founded with his teammate Xinran Su.
Products from WHECAT, which is a coined word combining wheat and cat, include a modular and biodegradable scratching board, cat nest and climbing frame made from wheat straw.
Starting in 2019, Zhou and his team traveled to five provinces of China which are hugely troubled by smog, including Jilin, Shandong, Henan, Jiangxi, and Shaanxi, hoping to find the reason behind why villagers have to burn the straw.
Then Zhou discovered that wheat straw not only degrades slowly in natural environments, but the transfer of heavy stocks of straw to power plants is also costly for villagers. They usually won't be able to make a dime out of the deal or even lose money in such bargains.
For those willing to sell the straw as fuel to powerhouses, chances are they are left queueing for too long. Eventually, some of them lose patience and they take a shortcut, setting the straw on fire.
Although the secretly burnt straw which previously occupied a large amount of arable land disappears, the burning process results in serious deterioration to the ambient air quality index.
Some pulverize the straw and mix the powder with polylactic acid for faster degradation. The process, however, produces lots of dust that worsens the environment. Most importantly, polylactide is costly.
As a graduate who majored in industrial design, Zhou turned to low-tech in search of a sustainable solution.
And luckily, he and his team found a way through the viral short-video platform Kuaishou.
"We found a video of a town named Yangguo in the city of Weinan in Shaanxi Province. Villagers from the town will braid the wheat straw, using it to make hats during winter when farming isn't possible," said Zhou, sharing what he saw in the video with Pandaily.
Yangguo villagers used to sell the straw braids to a factory and they coil-stitched the braids to make straw hats that are then sold to other parts of China or even to other countries such as South Korea.
"Our village is famous for straw hat making and some of the families even earn more through wheat by-products than by selling the wheat itself," one of the villagers from Yangguo said.
After careful research, Zhou and Su found that wheat straw is a natural and friendly material for cats, since it is wind-proof and water-proof and can be served as cat food in case of emergency.
"Villagers from Yangguo earn a humble annual income," said Zhou. "Once they apply their braiding technique to pet supplies, they can earn extra income during the winter season."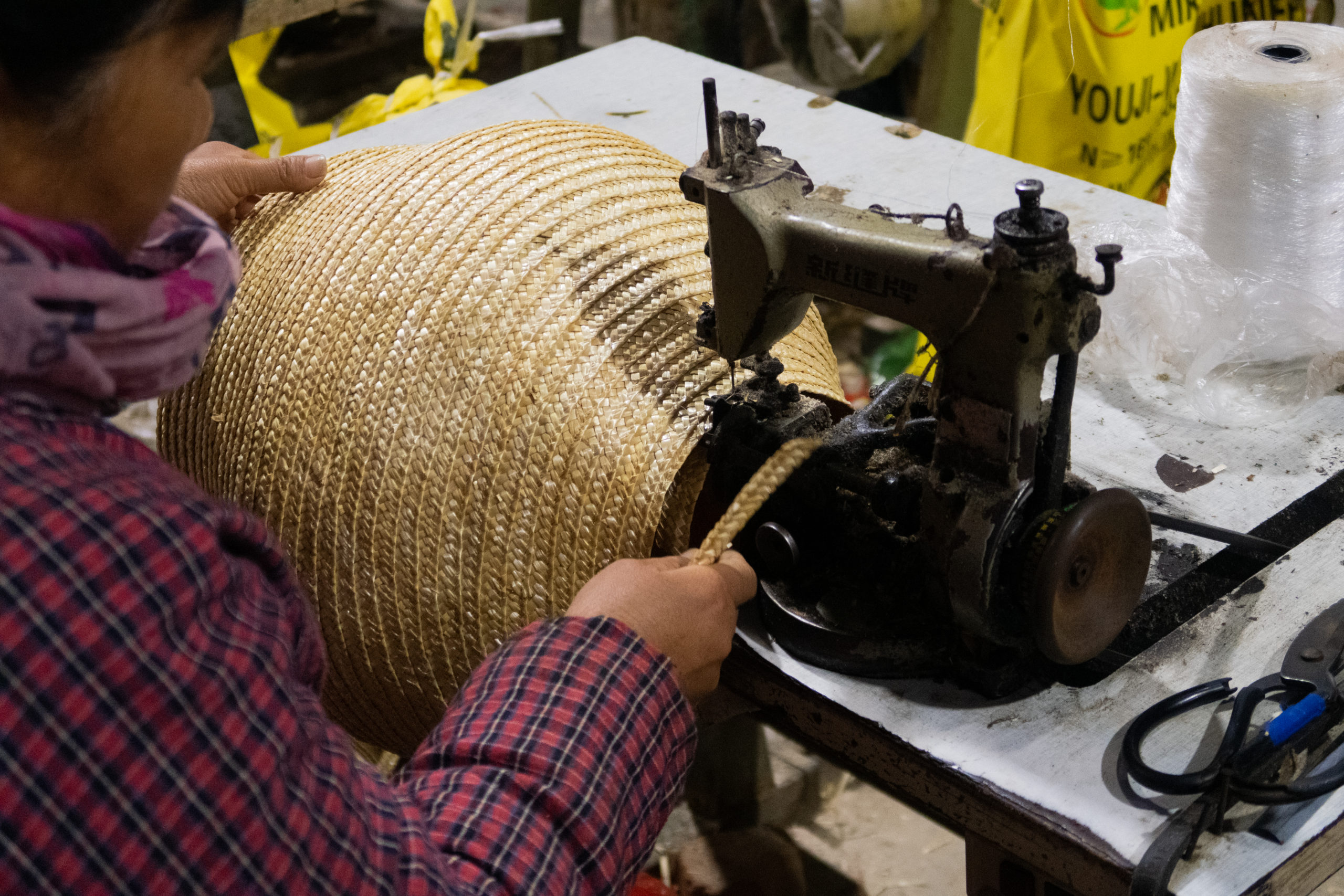 What's more, the team discovered that stray cats wandering on the streets in the cold winter days rely on wheat straw as shelter to survive. Traditional shelters made of plastic, cloth, metal or glue are either not sustainable or are unhealthy for cats.
Close to being forgotten and belonging to part of China's intangible cultural heritage, the braiding technique will likely survive once it becomes profitable.
"WHECAT brings us a smart way to increase income and deal with wheat straw," a villager said regarding the benefits the town will get from the business.
The villagers just need to do a further step to sew together the braids and a warm cat home will be created. Zhou is also cooperating with a factory which is willing to help out, running trials before mass production. 
As of now, WHECAT is conducting experiments in the city of Changsha, where Zhou's university is located. The team works with several non-government organizations (NGOs) that are dedicated to helping local stray cats.
"The test result shows that the product usually lasts for one year when put on the street before it begins to decay," Zhou said.
He also shared the next step for the brand. As one of only six entries from mainland China, WHECAT is now virtually and interactively being showcased at the Global Graduate Showcase 2020 held by the Art Dubai Group, where graduate students' ideas for social impact meet and communicate.
"We want to promote our products and get funded by the competition's Entrepreneurship Programme, and meanwhile we're giving out samples and making final adjustments to our products," Zhou said.
"WHECAT has established a win-win solution for both villagers and our environment," Zhou added. "Moreover, the poor stray cats won't have to endure the severe cold during winter."
Sign up today for 5 free articles monthly!